The information below has been supplied by dairy marketers and other industry organizations. It has not been edited, verified or endorsed by Hoard's Dairyman.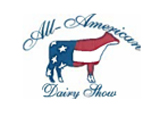 Eight individuals got the nod to place the 14 open and junior shows during the All-American Dairy Show, set for
September 18-22, with the Premier National Junior Show set for September 18-20, at the Pennsylvania Farm Show Complex and Expo Center in Harrisburg.
Pierre Boulet of Montmagny, Quebec, Canada, is set to judge the Premier National Junior Holstein Show and the All-American Jersey Show. He owns Ferme Pierre Boulet, Inc., with partner Katie Coates, and his five children, operating under the prefix "Pierstein." Pierre is also the auctioneer and co-owner of Les Encans Boulet, Inc., his family's sales management company. He has bred more than 140 Excellent cows and has bred or owned more than 100 All-Canadian and All-American-nominated animals, in addition to earning Premier Exhibitor at the Royal Winter Fair Holstein Show, as well as Premier Breeder. Since 2005, Pierre has placed cattle in Argentina, Australia, Canada, Columbia, France and the U.S.

Lynn Harbaugh of Marion, Wisconsin, returns to the All-American to place the Premier National Junior Ayrshire Show and the Eastern National Holstein Show Lynn is an area sales representative with CentralStar Cooperative, and along with wife Sara and their three children, he owns and operates Bella-View Holsteins, a small herd of elite cattle. They have bred or developed nearly 40 All-American or Jr. All-American nominees in both Holstein and Red and Whites. Lynn has judged all breeds in more than 20 states, including the All-American Dairy Show, World Dairy Expo, North American International Livestock Show, and the Royal Winter Fair.


Matt Henkes of Luana, Iowa, will place the All-American Milking Shorthorn show. A sixth-generation dairy farmer, he and his parents milk 65 registered Holsteins and Milking Shorthorns. Matt manages the breeding program and has bred and developed several All-Iowa and Junior All-Americans with both black and red Holsteins, as well has two All-American Milking Shorthorn nominations. A graduate of Iowa State University, Matt earned All-American dairy judging honors on the third placed team at World Dairy Expo, and also serves as co-coach for the Iowa State University dairy judging teams. His second time to judge at All-American, he placed the Ayrshires and Milking Shorthorn in the 2019 Premier National Junior Show.

Ryan Krohlow of Poynette, Wisconsin, will place the Premier National Junior Jersey Show and the All-American Red and White Show. Along with wife Haley and their four children, Ryan manages 8-10 show heifers on their 40-acre farmette. For the past three years, he has been a professional hoof trimmer after a 17-year career as a cattle fitter that took him to England, Germany, Italy, Sweden, Switzerland and Mexico. Ryan has helped prepare 17 World Dairy Expo Grand Champions and nine champions at the Royal Winter Fair. His judging experiences include numerous district and regional shows in the mid- and southwest U.S., and state shows in Iowa, Maryland, Minnesota and Ohio.
Chris Lang of Big Prairie, Ohio, will judge the Premier National Junior Brown Swiss and Milking Shorthorn shows and the All-American Guernsey Show. Chris owns Springhill Farm and Genetics, milking 70 Guernseys, Holsteins and Ayrshires. In 2019, they had 10 All-American winners, and have bred more than 100 All-American nominations in the past decade. Springhill was also named Premier Breeder at World Dairy Expo and North American International Livestock Expo in 2019. Chris has judged on the state and national levels at 10 state fairs, Eastern States, NAILE and World Dairy Expo, as well as internationally in Australia and the United Kingdom.

Josh Sanders of Littlestown, Pennsylvania, will analyze the Premier National Junior Red and White Show. Josh is an area representative for ST Genetics with 17 years of experience in the AI industry. He began working on his uncle's Locust-Ayr Farm in Maryland at a young age, where they have shown Holsteins and Jerseys at the state and national levels. After graduating from Delaware Valley College, he was a herdsman at Derrwyn Holsteins and has developed his own herd of Holsteins and Jerseys under his San-Haven prefix. Josh has judged at the local, state and national levels, including placing the Premier National Junior Guernsey Show. He and wife Leeann have one daughter, Emmalee.

Brian Schnebly of Hagerstown, Maryland, will judge the Premier National Junior Guernsey Show and the All-American Brown Swiss Show. Brian is an Ag Technician Supervisor at the Central Maryland Research and Education Center and former programs manager, breed classifier and executive secretary of the American Guernsey Association. His family farm, Crown Stone Farm, is home to Guernseys and several other breeds. Brian has judged all breeds in seven states, served as lead Guernsey judge at World Dairy Expo and Eastern States, All-American Milking Shorthorn Show and associate of the International Brown Swiss Show. He has also judged Guernseys in Canada and Australia. He and wife Heidi have two daughters.

Kurt Wolf of Holy Cross, Iowa, will place the All-American Ayrshire Show. Kurt works as an AI technician for Cannon ABS, and along with brothers Ted and Scott, Kurt and wife Michelle co-own Old-Bankston Ayrshires in Epworth, Iowa. In the past decade, the Wolfs and partners have bred, owned or sold more than 100 All-American/All-Canadian Ayrshire nominees. Kurt has judged at all levels, including the Southern National Junior Ayrshire Show, Indiana State Fair, and served as associate judge for the International Ayrshire Show at World Dairy Expo.

For more information, contact the All-American Dairy Show at 717.787.2905, or by email at aads@pa.gov, or visit the website at www.allamerican.pa.gov.