The information below has been supplied by dairy marketers and other industry organizations. It has not been edited, verified or endorsed by Hoard's Dairyman.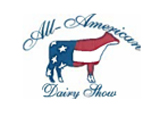 The Pennsylvania Dairy and Allied Industries Association board of directors released the tentative schedule for the 2021 All-American Dairy Show and Premier National Junior Events, set for September 18-22, at the Pennsylvania Farm Show Complex and Expo Center, Harrisburg, Pa.
"While this year's schedule will look different than in the past, we're excited to be able to offer all the breed shows and supreme champion pageants for the All-American and the Premier National Junior Show," said Board President Michelle Cornman. "We plan to hold a safe, enjoyable and competitive show, and remind everyone to note the changes in the schedule."

<!-no ad-->
The most notable change is the Invitational Youth Dairy Cattle Judging Contest will be held on Sunday, September 19, rather than Monday of show week, as in the past.
The Premier National Junior Events will take place from September 18-20, and will feature the youth art contest, pizza social, showmanship contest, and all seven breed shows. Due to space requirements, only four rings will run simultaneously, and all junior shows will start with milk cows, followed by calves and heifers. The Supreme Pageant is set for 6 p.m., which will be a milk-out for all champion cows.

Pennsylvania Junior Holstein exhibitors will be recognized during the Premier National Junior Holstein Show on Monday, September 20, and not during the All-American Holstein Show and the Pennsylvania Fall Holstein Championship shows.
All open shows for the All-American will start with calves and heifers, with Holsteins being the only split show on Tuesday, September 21 and Wednesday, September 22. The week wraps up with the selection of the All-American Dairy Show Supreme Champion Pageant at 2 p.m., on Wednesday, September 22.

The Pennsylvania State Junior Dairy Show will not be held during the All-American Dairy Show.
The complete schedule is listed at allamericandairyshow.com. Please follow the All-American Dairy Show Facebook page and allamericandairyshow.com for up-to-date information and details regarding the 2021 show.
For more information, contact the show office at 717.787.2905, or email aads@pa.gov.