Despite the rainy weather, over 1,000 consumers gathered to support and learn about agriculture. Young or old, everyone was eager to attend the 11th year of the annual "Breakfast on the Farm" event hosted by Iowa's Dairy Center in Calmar, Iowa.
Iowa's Dairy Center partners with Northeast Iowa Community College where students are able to enroll in dairy science, animal science, and a variety of other agriculture-related programs. The site has a dairy farm and classrooms available for student-use and additional consumer-facing information like Iowa's Dairy Museum, a hall of breeds, and a nutrition room.
The dairy farm milks 220 Jersey and Holstein cows. Being that the farm is primarily used for educational purposes, there are two robots and a double-eight parlor that is half herringbone, half parallel. The range in milk systems help students and consumers understand the differences.

As to be expected, the food is the main source of excitement at the event. With an array of local products, who wouldn't want a taste? Twenty-eight waffle irons lined the start of the breakfast table followed by toppings of home-made whipped cream, butter, and an assortment of syrup flavors.
For sides, visitors enjoyed sausage, bacon, yogurt, and cheese sticks. To wash the meal down, there was white milk, chocolate milk, coffee, and milkshakes. All of the food was free to the public and sponsored by community agriculture businesses and supporters.
The coordinator at the Iowa Dairy Center, Mariah Busta, stated, "One of the goals of Breakfast on the Farm is to be completely free." She believes that this component draws more consumers to the event and inspires their willingness to learn.

"When consumers have one good experience on the farm, they will hopefully always connect dairy to a positive memory," Busta explained. "We just want everyone to have a good experience!"
While at Breakfast on the Farm, attendees could see and participate in fun activities including guided tram tours across the farm, a petting zoo with goats and calves, and story time with dairy princesses. Other attractions included corn pools, two inflatables, and trivia games.
"What made it really impactful to me is that over 1,000 people came and stood in the rain just because they wanted learn," shared Busta. By allowing on-farm events like Breakfast on the farm, consumers can see modern farming practices and witness the care farmers have for their land and animals.

---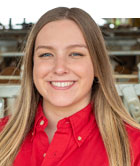 Jessica Schmitt
Jessica Schmitt grew up working on her family's dairy farm near Fort Atkinson, Iowa. She recently completed her junior year at Iowa State University where she is triple majoring in dairy science, international agriculture, and agricultural and life sciences education with a communications option. Schmitt is serving as the 2021 Hoard's Dairyman editorial intern this summer.