I'm slightly ashamed to admit that I used to be a very different person. I used to be the kind of farmer who wore the long hours like a badge of honor. I used to think vacations were for weak people who didn't like their life. I used to believe that farm wives who didn't milk cows or drive tractors weren't really farmers. I used to think crying made me weak, that as long as I had food on my plate, a roof over my head, and a little bit of money in my pocket I had no logical reason to feel depressed. So, the fact that I was depressed was wrong. I used to think a lot of things. Thankfully, people can change.
More than once in my life, I have scoffed when someone uttered the words "Man, I've never been this tired." I used to roll my eyes and think to myself, "Really? Are you tired?" How could they have any idea what tired feels like? You don't even understand tired until you've started working before 7 a.m., milked cows, fed calves, made 70 acres of hay, then fed calves and milked cows again only to go to bed around 2 a.m. knowing you'll have to do it all over again. Yes, that's exhausting — but other people are allowed to be tired, too. How do I know what they've done with their day? Or their life? Just because they didn't just work an 18-plus hour day doesn't mean they aren't tired.
We took four big vacations I remember as a kid. One was to Disney World, one to a family wedding in Texas, and two of them were completely spontaneous. My dad made the call and 48 hours later we were in a car driving toward a random destination. I loved every one of them. But at some point, the older I got, I started to think that if farmers took yearly vacations, they clearly weren't dedicated to farming. I mean, I never go anywhere, and I love my farm. So clearly, wanting to leave regularly meant they weren't as passionate as I am.

Then, last week, I left the farm, and it was refreshing. Not only did I get to sleep in a bit, but I also got to see friends I hadn't seen in ages, and I even missed my cows. As it turns out, I needed to miss my cows. It sent me home with a renewed attitude.
I always thought that as long as you have what you need in life you have no reason to be unhappy. Actually, I thought you didn't deserve to be unhappy. I thought talking about it made me ungrateful. I thought talking about how I felt made me weak and sad and pathetic. I thought I was broken.
I'm glad people can change their minds. Because literally everyone needs a break sometimes. Working 18 hours a day every day isn't healthy. Every single person who does any little or big task on a farm is a farmer. And the only tried and true way I've found to stop feeling crappy is to talk about feeling crappy.

---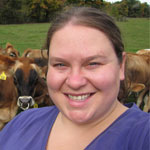 The author dairies in partnership with her parents and brother at Spruce Row Farm in Pennsylvania. Jessica is a graduate of Pennsylvania State University, and since 2015, she has been active in promoting dairy in her local community. You can find her and her 250 Jersey cows on Facebook at Spruce Row Dairy or on Instagram at @seejessfarm.