We are basically professionals at natural disasters here in the Northwest after the last year. In February, I was writing about a historic ice storm that came much too soon, just six months after a historic wildfire season that threatened our farm in September. So why not throw in a historic, once-in-a-lifetime heat dome for June?
During the last weekend of June, we were held hostage for three days with temperatures hotter than the Mojave Desert. We broke heat records for all three of those days in a row, with Monday, June 28th setting the new all-time high at 117°F in Salem, Oregon!

Just for reference, our average high June temperature usually sits at 73°F. And let me tell you, that 44°F difference was definitely felt! Luckily, the extreme heat only lasted for three days, and we quickly returned to normal. It's been the shortest of our once-in-a-lifetime weather events to date.
Obviously, Pacific Northwest dairies are not set up for that kind of heat. It was tough to see the cows definitely experiencing heat stress. Given the extreme circumstances, we all worked hard to keep it at a minimum.
But that weekend really put into perspective how we truly are at Mother Nature's mercy. So, what's next?! At this point, I feel like we can basically expect anything. Even though I am feeling completely drained from historic weather events, I know if the occasion arrived tomorrow, we'd still do everything in our power to make sure our animals received the best care possible given the circumstances. It's just what farmers do.

---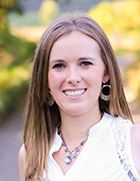 The author is a third-generation dairy farmer from Oregon where she farms in partnership with her husband and parents. As a mother of young sons who round out the family-run operation as micro managers, Darleen blogs about the three generations of her family working together at Guernsey Dairy Mama. Abiqua Acres Mann's Guernsey Dairy is currently home to 90 registered Guernseys and transitioned to a robotic milking system in 2017.