There is no better feeling than when a popular trend includes dairy. With a dairy upbringing, it seemed like I was always the person to add a dairy influence among my peers. For example, when it came to fun coffee drinks at sought-after shops, I was the one to opt for a dairy creamer and tried to convince others to do the same.
Trends involving dairy are important for supporting the market and showcasing products in a new fashion to consumers. In 2018, the "10 Gallon Challenge" peaked its fame as people were inspired to donate ten gallons of milk to a local food pantry.
More recently, dairy is highlighted in the charcuterie board trend. For those who are unaware, a charcuterie board is a display of cheeses, meats, crackers, and other edible additions that are arranged in a visually appealing manner on a wooden board.

These displays are the perfect way to amaze guests and show off creativity. Avid foodie Claire Jaspers shared with food magazine Half & Half how to construct the ideal charcuterie board and the best cheese choices for your guests.
As the ultimate people-pleaser, you cannot go wrong with Cheddar. Jaspers recommended to "slice squares of this firm cheese and sandwich between crackers and cured meat." Another flavor that is good for all palates is Colby Jack, which can be made into a sandwich with the other foods on the board.
For those wanting to explore more cheese varieties, Jaspers stated that Gouda is a step up from Sharp Cheddar. "This easy-to-find cheese, often smoked, is a crowd-pleaser," she said. "Pair it with sweet sides, like fruit."

Soft cheeses like Havarti and Brie certainly have their spot on the board. Havarti contains a buttery taste that goes well with hard cheeses, fruits, and nuts. Jaspers mentioned that brie can be cut into wedges and positioned near jams and fruit spreads.
Depending on preferences, other cheese options can make an appearance on a charcuterie board. She affirmed that other variations are more than welcomed. "Add a surprise to your cheese picks," said Jaspers. "Opt for cheeses with unexpected flavorings or combinations."

Forks, knives, and spoons can be distributed around the board to help guests serve themselves. Additional decorative elements, like mint and mason jars, can be included for aesthetic purposes.
Reaching to our consumers in new ways helps dairy stay relevant. Be sure to jump on this dairy-featured trend!
---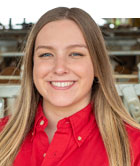 Jessica Schmitt
Jessica Schmitt grew up working on her family's dairy farm near Fort Atkinson, Iowa. She recently completed her junior year at Iowa State University where she is triple majoring in dairy science, international agriculture, and agricultural and life sciences education with a communications option. Schmitt is serving as the 2021 Hoard's Dairyman editorial intern this summer.