I'm sure by now you've heard, more times than you want to, that we all need to be advocating for the dairy industry. With the power of social media, we all have an "easy" option to reach more people than ever before. But with social channels always changing, are we really making an impact with our voice?
I've been an "agvocate" all the way back to the Stone Ages of when blogging was the most popular social media. I'm the first to admit that I don't have time to keep up with the trends of the ever-changing algorithm. The day, year, or even just the direction of the wind seems to impact what viewers on social media really want to see.
I give big credit to the dairy influencers who are able to keep up and stay relevant in this system. It does take time and dedication. But you don't have to be like them to have a big impact!

Let's be honest: while most of us are scrolling whatever social channel is our favorite, we are seeing what friends and family are up to. So, I'm here to tell you, you don't need a page or big following to share your dairy story. Simply by sharing your everyday dairy life, you will be reaching all those friends and family in your circle.
Whether it's Facebook, Instagram, TikTok, or even your "old school" blog, don't feel overwhelmed by what is the right thing to post — just do it! Share that picture of the kids at the barn. Post that video of the tractors at work. And if you have time, create that Instagram reel to entertain. Agvocating doesn't have to be complicated, and doing what's easier and comfortable for you can have just as much influence!
Go share your everyday!

---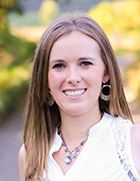 The author is a third-generation dairy farmer from Oregon where she farms in partnership with her husband and parents. As a mother of young sons who round out the family-run operation as micro managers, Darleen blogs about the three generations of her family working together at Guernsey Dairy Mama. Abiqua Acres Mann's Guernsey Dairy is currently home to 90 registered Guernseys and transitioned to a robotic milking system in 2017.