Let me introduce you to my generation. Born between 1997 and 2015, Generation Z (Gen Z) is filled with go-getters and achievers. While some may groan that we spend too much time looking at our phones and computer screens, we grew up in the expansion of technology.
Living in this era, we have seen products evolve and new features implemented. From voice activated control on smartphones to health monitoring located right on a wrist, innovation is not surprising but expected.
Because we have witnessed so much change in our short lives, we feel unlimited in terms of goals we can accomplish and improvements we can make to better the world. During the Dairy Experience Forum hosted by New England Dairy, a panel of Gen Z members from diverse backgrounds shared their opinions on dairy and what changes they want from the dairy industry.

Moderating the conversation was Rosemary Sundin, president of Orman Guidance, a consumer insights firm. She navigated the discussion on dairy foods and nutrition, environmental implications, and corporate and social responsibility.
While listening to the panel, I found it obvious that milk is not as appealing as other dairy products. One of the panelists noted, "Cow milk almost tastes grimy. It tastes thick and leaves a weird aftertaste." While many of the panelists saw milk as a necessary component for cooking, items like cheese, yogurt, and ice cream were preferred for snacking. In fact, Orman Guidance conducted research before the forum and found that 42% of participants eat cheese daily.
While Gen Z loves dairy products, they are uncertain about the environmental impacts that come from dairy farming. Major concerns are associated with plastic packaging, transportation, and carbon emissions. Uncertain of what could be changed to better dairy farming practices, one panelist said, "Although there is a negative environmental impact, I don't feel like dairy products are something we can take away. I feel like the industry's impact is not as harmful as other factors in our nation."
The panel agreed that they wished the dairy industry was more open about their practices. They suggested that farmers share how they care for their animals and the environment through Facebook, Instagram, or by welcoming visitors on the farm. It was often stated by the group that farmers may be biased to their own methods, so they would like to hear the truth from a third party.

The combination of the findings from the panel and prior research concluded the following results:
1. Gen Z was raised on dairy.
2. Social media drives Gen Z.
3. Increasingly, Gen Z is questioning the logic of dairy.
4. Gen Z believes the dairy industry can and should do more.
Moving forward, dairy farmers can rest assured that consumers love their products, but they desire more transparency. They enjoy options like purchasing from local farms, so they know where it comes from and who produced it. The dairy community must engage in conversations to discuss modern farming and efforts toward environmental improvements.

---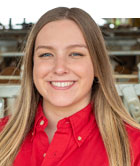 Jessica Schmitt
Jessica Schmitt grew up working on her family's dairy farm near Fort Atkinson, Iowa. She recently completed her junior year at Iowa State University where she is triple majoring in dairy science, international agriculture, and agricultural and life sciences education with a communications option. Schmitt is serving as the 2021 Hoard's Dairyman editorial intern this summer.