"You need to say 'no' more often!" "You do so much, just say 'no' next time." I am sure everyone has heard a variation of these phrases a time or two. It seems easy to deny the next plead for involvement, but is it truly wrong to say "yes"?
My life has been like a pedal to the metal for the past seven years. As I prepare to enter my final year of college, I am constantly reflecting on all my past involvements and thinking about what I need to do my senior year to help me land an incredible job.
When I entered high school, I decided I wanted to do it all - sports, speech, student government, FFA, 4-H, and the list goes on. I was traveling from place to place with little time for meals or sleep.

It didn't take long before my mom sat me down to tell me about the concept of being spread too thin. Like a slab of butter on bread, a person can only do so much and be high and mighty through it all. She explained to me that while she was glad I was adventuring out of my comfort zone, there is a limit as to how much I could do before my abilities, time, and effort would be cut short. Today, I can still remember her saying, "Those that do too much can only be good at so little."
At the snooty age of 14, you can bet that I responded to that conversation with my grandest eye roll. However, I admire the wisdom now that I understand how overwhelming and stressful everything can be.
As I progressed through high school, I learned how to drop the activities that did not bring me happiness. This gave me more time and energy to excel at the things I liked.

Coming into college, I repeated that same behavior I had in high school. During my first week of freshman year, I attended a club fair and signed up for numerous campus organizations.
As I progressed through my first semester, I attended meetings and quickly judged whether the organization was worth my time or not. I ranked them on three different levels:
1. I want to be very active in this club and I hope to serve in a leadership role.
2. I like this club and I want to support it as an active member.
3. This club does not spark my interest and I will not be a member.
While I still have the tendency to say "yes" too often, I don't think it is a negative thing. Saying "yes" has taught me what I like and dislike, it showed me how to prioritize, and it connected me with new people.

---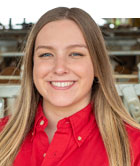 Jessica Schmitt
Jessica Schmitt grew up working on her family's dairy farm near Fort Atkinson, Iowa. She recently completed her junior year at Iowa State University where she is triple majoring in dairy science, international agriculture, and agricultural and life sciences education with a communications option. Schmitt is serving as the 2021 Hoard's Dairyman editorial intern this summer.