I may not understand much about soccer, but I know about passion, cheers of joy, and what it means when a ball enters a goalie's net. When watching the first annual Dairy Soccer Cup in New Holstein, Wis., I witnessed all the enthusiasm in a game of soccer. Although I didn't know much about the sport, I was able to tell what was happening just by the emotions portrayed.
This tournament was not just another game in the park, and if you would have asked me, these players could pass for professionals. The Dairy Soccer Cup consisted of employees from nearly 50 dairy farms in northeast Wisconsin. Nutritionists, breeders, milking staff, and all those who play a role on the farm were invited to participate in the two-weekend competition.

Multiple dairies combined players to create the eight teams in the tournament. There were around 140 players, and each brought their family and friends to enjoy the entertainment. "We had about 250 people watching just at one point," said Josue Valenzuela, the coordinator of the event. "It was a good turnout!"
This year was the first tournament of what will hopefully become a tradition for many years to come. Valenzuela commented, "We really didn't know what to expect." He and his father worked hard to put on the event, which was originally planned last year but got postponed due to COVID-19.
"My dad works on a dairy farm, and I was a sports marketing and management major, so why not combine both and make a tournament?" Valenzuela said with a smile. He recently graduated from the University of Wisconsin-Parkside in Kenosha, Wis., where he played Division II soccer and interned in Green Bay at a turf facility next to the Green Bay Packer's NFL stadium. He also worked for NBA's Milwaukee Bucks.
His father works for Gold Star Dairy LLC, who ended up being the winning team of the Dairy Soccer Cup. The father and son duo worked the sidelines as referees. They had several industry sponsors and gave out trophies to the teams in first, second, and third place. The players on the winning team each received their own trophy, and they also gave out awards for the most goals and most valuable player.
"It gets employees' minds off things at work," stated Valenzuela. "It certainly brings people together and you can see the camaraderie." He hopes to continue doing the competition for years to come and wants to get 16 teams next year.

---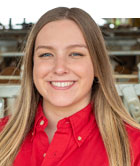 Jessica Schmitt
Jessica Schmitt grew up working on her family's dairy farm near Fort Atkinson, Iowa. She recently completed her junior year at Iowa State University where she is triple majoring in dairy science, international agriculture, and agricultural and life sciences education with a communications option. Schmitt is serving as the 2021 Hoard's Dairyman editorial intern this summer.