Pancakes and dairy make for a great combination.
At least, that seemed to be the sentiment of the hundreds of people that attended the Dane County Breakfast on the Farm in Cambridge, Wis., on Saturday. Not even a light early morning drizzle could dampen their spirits for getting out for an up-close and personal taste of agriculture.
Visitors and volunteers alike were glad to head to Hinchley's Dairy Farm, which provides tours of their facility year-round. This weekend's event was a little larger than the typical group. But with plenty of help and an extra year to nail down details thanks to the pandemic, one of the area's largest agricultural events of the year went off without a hitch.

Many volunteers were busy cooking and delivering breakfast for the hungry crowd all morning. The menu featured sausage, pancakes with butter and syrup, cheesy scrambled eggs, and of course, milk and cheese. Attendees could even try Swiss yogurt made right in nearby Madison with milk from a Brown Swiss dairy farm. Local ice cream was available to top off the meal — what would be a better way to start your day?
After their breakfast, attendees explored the farm to learn about dairy cattle and their care, as well as dairy products, soil health, and an assortment of other farm animals. The farm is owned and operated by Duane and Tina Hinchley, and their 240 cows are housed in freestalls and milked through automatic milking systems.
Volunteers were on hand throughout the farm to answer questions and explain a little more about farm life as children, parents, grandparents, and friends witnessed cows being milked and animals eating and resting. A scavenger hunt of questions made learning about dairy animals and dairy farming fun for children (and adults, too). Participants earned an "I Love Wisconsin Cheese" t-shirt. And at any point of the morning, you would find attendees walking around shaking up a tube of homemade butter.

Breakfast on the Farm events serve as a great way to promote dairy while connecting consumers with their food source in the most direct way: seeing and feeling the cow and its environment. Attendees left full of good food but also full of knowledge that dairy products are part of a healthy diet. As one mom reminded her daughter while walking through the barn, "This is how you get your milk!"
---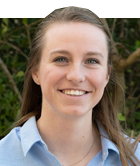 Katelyn Allen joined the Hoard's Dairyman team as the Publications Editor in August 2019 and is now an associate editor. Katelyn is a 2019 graduate of Virginia Tech, where she majored in dairy science and minored in communication. Katelyn grew up on her family's registered Holstein dairy, Glen-Toctin Farm, in Jefferson, Md.