From farm social media accounts to participating in community events and talking with consumers, we all have our own ways of advocating for dairy farmers and dairy foods. In those interactions, farmers might often think, "If only this person could see what happens on my farm!"
Providing that firsthand look at how milk is produced is why a growing number of dairies have decided to open their farms up to the public by offering tours. Some of those opportunities may even come with the chance to purchase farm-fresh dairy products from an on-farm store. Whether selling food onsite or not, agritourism businesses such as these rely on drawing people to their farm with engaging opportunities and a fun experience.
Sometimes, a special event can be useful to bring people to the farm or business to explore your products and learn about the operation. To enhance a visitor's experience and encourage them to stay longer, you may even want to bring in outside vendors, which could include restaurants or food trucks, musicians, or other local entertainment. Penn State Extension educators talked to three agritourism businesses about their experiences hosting vendors at their farms and compiled some best practices if that's a path your business might explore.

Their first consideration was to contract with companies that fit the brand you have created for your business and the event you're putting on. For example, if you're planning a family-friendly event, make sure kids and parents will enjoy what your vendors can provide, and create a good mix of products and services available.
An obvious point to consider is the vendor's reputation. Are they respectful and responsive in communication with you as a business owner? Further, are customers happy with the company and their service? Bringing in a business that will draw loyal customers to your event is a great benefit, but make sure you'll have a healthy relationship with them, too. They should be able to provide all the necessary certifications (such as for serving food) and be available to work through all the logistics that need to be sorted out before the event. A farm should also review their own insurance policy before securing vendors and ask about the coverage their company would bring to the event.
When reaching out to vendors, consider what type of relationship you're looking for. Is this a one-time event, or is there the possibility for a longer-term commitment? Make that clear with whomever you choose. Also, be prepared to discuss projected attendance with vendors, particularly if they're not familiar with your business.

Working with outside companies to host an on-farm event requires planning, but it also allows you to support other local businesses while expanding your consumer horizon to include their customers. Further, you can bring more opportunities to interest your guests without adding that responsibility entirely to your plate. That allows your farm to focus on what it does best — promoting and educating about dairy.
---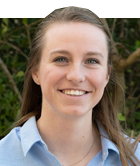 Katelyn Allen joined the Hoard's Dairyman team as the Publications Editor in August 2019 and is now an associate editor. Katelyn is a 2019 graduate of Virginia Tech, where she majored in dairy science and minored in communication. Katelyn grew up on her family's registered Holstein dairy, Glen-Toctin Farm, in Jefferson, Md.