Last week was World Dairy Expo week, one that I look forward to every year. Attending Expo is my personal kickoff to fall, and I meet up with my parents, sister, and friends in Madison most years. I pull out my scarves, nice boots, and excitedly anticipate waiting in line for a grilled cheese, watching the cattle show, collecting fun trinkets for my kiddos from the trade show, and sharing meals with some of my favorite people.
Unfortunately, I didn't get to attend this year due to other obligations. The FOMO is real. FOMO is a trendy acronym for "fear of missing out." And with social media displaying what seems like everyone's highlights of such a wonderful week in our industry, it can be easy to feel like you're the lone person in our industry not there.
Statements like, "Well, someone has to milk the cows" are true but certainly do nothing to make one feel encouraged or better about what can often be a thankless job. Scrolling Instagram and seeing so many smiles and tags that make you wish you were there can be such a bummer, and it's normal and absolutely okay to feel a pang of regret that you couldn't attend. Nevertheless, you are still an integral part of our industry and your work is important. I hope the FOMO is fleeting, and please remember that I, like you, wish I had been there, too. Let's meet up in 2022, okay? Fingers crossed!

If you attended Expo, I encourage you to post all the highlights. Attending Expo is the rare vacation for many folks in dairy, and it's the perfect time to celebrate everything great in our industry and be reminded why we've devoted our livelihoods to it. The fellowship and time away from the farm likely gave you a refreshing jolt of energy to go back and face the hard days, as we know not every day is easy. I also hope that you remembered those that are still on the farm or in the plants, allowing others to gather and take a much-needed break.
Whether you were in Madison or not, we are all in dairy together and it's a cause for celebration. I hope everyone in our industry had a great 2021 World Dairy Expo week!

---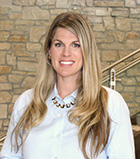 Erin Massey is the product development manager at Prairie Farms, a farmer-owned cooperative based in Edwardsville, Illinois. She is responsible for overseeing all aspects of the development process, from concept to commercialization. Erin grew up on a Florida dairy farm and has a deep-rooted passion to invigorate the dairy industry. Erin earned a bachelor's degree in chemical engineering from the University of South Florida. Her personal mantra is "Be Bold."