As an Iowa State University student, the college career fair is a blessing and a curse. The college of agriculture and life sciences hosts the nation's largest agriculture career fair. With hundreds of recruiters, my luck in landing a job opportunity is in my favor, but this doesn't make the event less daunting or stressful.
As I enter into my fourth year of college career fairs, I am proud to have obtained some tricks on how to be successful on the job circuit. I have learned these tips from university staff, job recruiters, and fellow students who learned how to maneuver the career fair.
1. Do your research beforehand. When you arrive at the career fair and walk up to an organization, a recruiter might ask, "What do you know about the company?" That representative is hoping you have some background information on what they do, what their morals are, and the type of positions they have available.
A recruiter is willing to tell you all of these things, but if you already know this information, you come off as more impressive and informed. Additionally, when you do research beforehand, you are saving the time that it would take to discuss all of those general topics and putting it toward a conversation on why you would be a good fit for the company.
Most career fairs provide a company list ahead of time. From that list, select some companies that you are interested in talking to and visit their website to learn more about them. While doing that, take notes and review them right before you approach that company at the event.
2. Do a practice round. Before you start talking with your top picks, approach a company that you know about but are not necessarily interested in working for to practice your elevator speech and let out your nerves. This can serve as a confidence boost.
Be sure you know something about this company and that you are willing to listen to whatever they say; otherwise, it will not be a successful practice round. If the recruiter can tell you are not interested, they are likely not going to be interested in you. Then this would just make for a horrible first experience.
3. Follow up with a thank you. Depending on the job you are applying for, a conversation should be followed up with either a handwritten thank you card or a thank you email. Handwritten cards are timeless and show that you took time and effort to share your appreciation. On the other hand, email thank you notes are quicker and reach the recruiter instantly. Especially during career fair season, recruiters are traveling and often don't return to their office for days or weeks.
Evaluate the company and their recruiting process. If you think a handwritten note will reach the recruiter in a timely fashion, go that route. Otherwise, an email will do the job. As long as you are able to show the company that you appreciate their time and consideration, you are taking the right steps.
---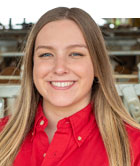 Jessica Schmitt
Jessica Schmitt grew up working on her family's dairy farm near Fort Atkinson, Iowa. She recently completed her junior year at Iowa State University where she is triple majoring in dairy science, international agriculture, and agricultural and life sciences education with a communications option. Schmitt served as the 2021 Hoard's Dairyman editorial intern this summer.