Well-respected educator, committed coach, and cherished mentor are just a few of the ways that decades of Virginia Tech dairy science students, colleagues, and friends will remember Michael Barnes. The longtime university professor and dairy judging team coach passed away on October 10, 2021, at the age of 79.
Dairy cattle became a part of Barnes' life when he worked on a nearby dairy farm as a teenager growing up in Connecticut. He earned a bachelor's degree in dairy science from the University of Connecticut in 1965, and shortly after graduating, joined the Marine Corps to serve his country in Vietnam. Although having a former Marine for a judging coach or college professor may seem intimidating, Barnes' students knew that his high standards were rooted in his desire to see them succeed and belief that they could long after earning their college diploma.
After his time in the service, Barnes returned home and received both his master's degree and Ph.D. in reproductive physiology from the University of Connecticut. He ran a dairy farm with a friend for a few years before being recruited into academia at Clemson University. In 1981, he joined what would become his home in Blacksburg, Va., the Department of Dairy Science at Virginia Tech.

There, Barnes worked with students as he served as an academic adviser for more than 500 young people, taught physiology of reproduction and lactation among other classes, and was an adviser for the Dairy Science Club for many years. In 1989, he received the highest teaching award presented by Virginia Tech, and he later earned Virginia Tech's Alumni Award for Excellence in Academic Advising. In 2019, Barnes was recognized as a National Dairy Shrine Pioneer.
Most notably and closest to his heart in his career were his dairy judging teams. Across UConn, Clemson, and Virginia Tech, Barnes spent more than 40 years coaching dairy judging. He taught his students not only how to see cows, but how to make decisions, realize their own ability, and communicate. His teams at Virginia Tech from the 1980s to early 2010s garnered five national titles and included three high individuals, but every student walked away with lessons that served them in a variety of life paths.
Whether in the classroom or the judging van, Barnes invested in his students by taking the time to understand them as individuals; he simply asked for a committed attitude in return. His humility and honesty made smooth the path to excellence he pushed students toward. And most of all, he became a true mentor and friend, someone students never wanted to let down because they knew Barnes would always be in their corner firmly but caringly reminding them to, "Do good."

---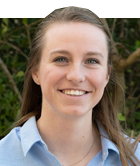 Katelyn Allen joined the Hoard's Dairyman team as the Publications Editor in August 2019 and is now an associate editor. Katelyn is a 2019 graduate of Virginia Tech, where she majored in dairy science and minored in communication. Katelyn grew up on her family's registered Holstein dairy, Glen-Toctin Farm, in Jefferson, Md.