These past few seasons have felt like they've kept us trapped in a weird time warp. Nothing is back to "normal" completely, and yet the calendar keeps turning over. And suddenly we are at the end of October.
Real rains have finally returned to the Pacific Northwest. It's like the arms of drought have loosened their grip — or at the very least wetted the land enough to make it feel like we aren't living in a tinderbox.
For me, the changing of seasons is a welcome sign of the passage of time. It's a reminder that each chapter has its own radiant beauty in different forms. Even as the wind and rain manage to whip your face during chores, you can't help but admire the beauty of colors in a fall tree line.

Are we more in tune with all the seasons have to offer when we have to weather the good and bad? Being held to the mercy of Mother Nature gives us farmers a healthy dose of respect for the elements. However, we are also in a unique position to really admire and be in tune with what each season offers.
I'm pretty sure we all can agree we farm because we are a little too stir-crazy to sit behind a desk all day. That same spirit carries us through the elements that many would just rather hide away from. Each season brings its own challenges and also beauty. I am glad to have a workday with a front row seat to experience it all.

---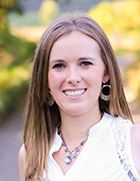 The author is a third-generation dairy farmer from Oregon where she farms in partnership with her husband and parents. As a mother of young sons who round out the family-run operation as micro managers, Darleen blogs about the three generations of her family working together at Guernsey Dairy Mama. Abiqua Acres Mann's Guernsey Dairy is currently home to 90 registered Guernseys and transitioned to a robotic milking system in 2017.