Hope for the best and plan for the unexpected — if life was just that easy. The Virginia 4-H dairy bowl team was comprised of four very talented young ladies. They breezed through their early rounds and when the team went head-to-head against undefeated New York, they handled them. However, after the lunch break things changed.
I watched as the Virginia team entered the room for the finals. Three young ladies placed their name cards over the edge of the table and sat down. One, two, three . . . where was the fourth? I looked through my notes and quickly realized the missing member was most likely parading her Jersey cow in the ring across the fairgrounds. How unfortunate that she had to choose between showing her prized Jersey and her teammates as the youth competitions were taking place simultaneously.
As I kept track of the toss-up questions and team scores, it was such a close match that I could not predict a winner. Even with what I observed on Saturday, point values from Friday's test would be added to the Saturday rounds. Virginia had a lead, but when the test points were shared, their advantage was gone. New York handed them their first loss.
I thought it might be fate, and that the team would come back in the double-elimination contest and have their teammate rush through the doors in her white show pants to join her friends at the table and take her buzzer. Isn't that how it works in the movies?
But that was not the case. The Virginia team again walked stoically to the front of the room and took their three seats. There would be no Hollywood theatrics. The team questions left both teams tied at 40 points. But, in the toss-up round that followed, they meticulously attacked the buzzers and correctly answered 16 of the possible 20 tossup questions, earning two bonus questions on their march to Virginia's fifth national title since 1980.
While their fourth member was not visible to the audience, she was there in spirit. One team member excitedly showed me the purple pen of the missing teammate as proof she was with them. The quad later reconnected and celebrated their victory. I am sure it was a difficult decision, but it had a fantastic outcome as the team won and the Jersey she showed took Reserve Senior Champion honors.
The results were announced
The 41st North American Invitational 4-H Dairy Quiz Bowl Contest had 12 teams competing from Maine to Iowa and as far south as Georgia. Contest organizers, coaches, and 4-H members were excited to be participating in an in-person event, since the 2020 contest was not held in its traditional Louisville, Ky., location.The winning team from Virginia 4-H included Rachel Craun, Hayley Daubert, Regan Jackson, and Ellie Vincent. Team captain Rachel placed second on the written test and Hayley placed fifth. David Winston and Rebecca Daubert serve as their coaches.
New York 4-H members will have to wait until next year for a chance to capture their sweet 16th national championship – the most of any state in contest history. New York was led by Annika Donlick who amassed the highest score on the written test. Her teammates Sean Kersmanc and Mark Freier placed fourth and sixth, respectively. Their fourth member was Alysha Kuhn. PRO-DAIRY Youth Specialist with Cornell University, Debbie Grusenmeyer, and dairy producer Matt Young have successfully coached the New York teams for years.
Michigan 4-H had two extremely close matches with New York – the only team to defeat them in their six matches. They placed third overall. Joshua Tripp had the highest test score among his teammates and placed third on the test. Their team captain, Adalee Thelen, placed 10th.
The state of Pennsylvania followed in fourth with Illinois and Georgia earning Honorable Mention. Other participating states included Alabama, Iowa, Maine, Maryland, Mississippi, and Tennessee.
The other top 10 test scores came from Elizabeth Karides, Maryland; Shana Engelking, Illinois; and Jillian Sawyer, Maine.
Awards were announced at the evening banquet where sponsors and coordinators were also thanked. Sponsors for the contest were ADM Animal Nutrition, American Dairy Science Association, Diamond V, National Dairy Shrine, North American International Livestock Exposition, Select Sires Inc., and W. D. Hoard & Sons Co.
The North American Dairy Educational Experience
With COVID-19 preventing an in-person contest, organizers developed the North American Dairy Educational Experience (NADEE), where youth evaluate a scenario on a dairy operation and provide responses to prompts about the operation. The assignments were distributed in September and the project was conducted entirely online. Youth were to work as a team to prepare their responses without any adult intervention. They could, however, use resources to aid in their scenarios. One team per state could enter, and they could be the same, different, or a combination of youth competing in the national dairy bowl contest.
Winners of 2021 NADEE: New Jersey 4-H
From L to R: Chloee Roell, Carlee Roell, Annabelle Majorossy, Cait O'Sullivan and Jacquilin Kirby
Awards for NADEE were also announced at the banquet. A team from New Jersey was the winner. They did not travel to Kentucky with a quiz bowl team but were still able to be involved because of their participation in the NADEE scenario. States are encouraged to participate, especially if travel time and costs make it challenging to attend in-person. This year, Michigan, New York, and Virginia also evaluated the scenarios and submitted their product.
---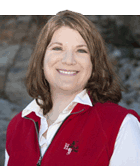 The author is the online media manager and is responsible for the website, webinars, and social media. A graduate of Modesto Junior College and Fresno State, she was raised on a California dairy and frequently blogs on youth programs and consumer issues.