Thanksgiving has long been one of my favorite holidays. There is just something that creates a magical feeling of contentment when we enjoy a meal shared with family and a mindset of giving thanks for all that we have.
Thinking literally about the Thanksgiving meal makes me realize what an important role food plays in our celebrations. There's not a holiday or special occasion out there that doesn't have a food to go along with it. Being a producer of a raw product makes the pride from that holiday spread even greater.

It's often a magical combination of raw ingredients that make our favorite dishes. The role that milk plays at the base of many of them is so important. Where would so many of our favorites be without dairy products?
That pride in our product is just a small part of a thankful mindset. Often in this stressful industry it can be hard to look at the positives. But having a season of focus on just that can be exactly what we need to put it all into perspective.
So, when the table was laid this year, and our plates piled high, I hope you could take pride in what we as dairy farmers contribute. And don't forget to think of all that we have to be thankful for.

---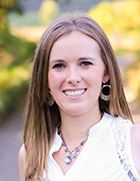 The author is a third-generation dairy farmer from Oregon where she farms in partnership with her husband and parents. As a mother of young sons who round out the family-run operation as micro managers, Darleen blogs about the three generations of her family working together at Guernsey Dairy Mama. Abiqua Acres Mann's Guernsey Dairy is currently home to 90 registered Guernseys and transitioned to a robotic milking system in 2017.