The information below has been supplied by dairy marketers and other industry organizations. It has not been edited, verified or endorsed by Hoard's Dairyman.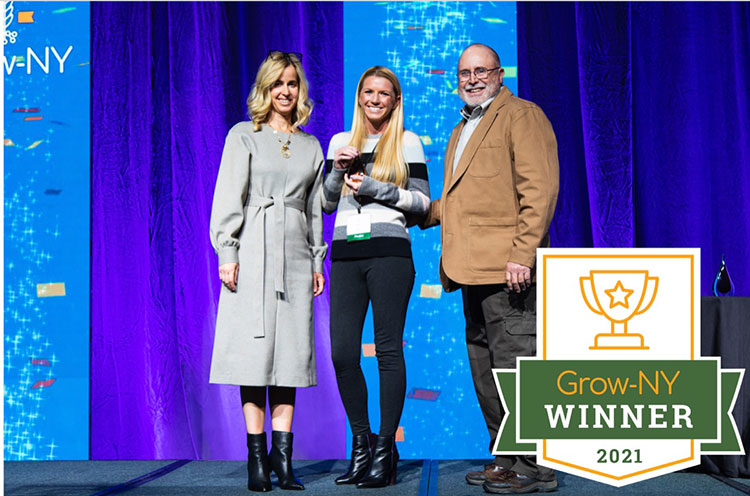 Empire State Development and Cornell University's Center for Regional Economic Advancement have named EmGenisys the $250,000 winner of Grow-NY, a food innovation and agriculture technology business competition focused on enhancing the emerging food, beverage and agriculture innovation cluster in Central New York, the Finger Lakes, and the Southern Tier. Marking its third year, the unprecedented competition attracted a group of exceptional startups and entrepreneurial talent from around the globe to compete in its two-day pitch competition and highly anticipated symposium. EmGenisys was one of eight finalists to take home prize money during the Grow-NY Food and Ag Summit's award ceremony held at the Oncenter in Syracuse this past Nov. 16 and 17.
"This is a win for the entire dairy industry. In preparation for the competition, we got to meet with some of the most innovative dairy farms in the country, as well as with their veterinarians and embryologists. These people utilize state-of-art technology in every aspect of their dairy to provide an unwavering commitment to animal health, efficiency, and sustainability – it was an honor to represent this industry in front of an audience of over 1200 people and win this award so we can continue to progress this industry" said Cara Wells, founder and CEO of EmGenisys.

<!-no ad-->
The Summit culminated with an awards ceremony announcing the recipients of the $3 million in prize money. This included a $1 million top prize, two $500,000 prizes, four $250,000 prizes and one $10,000 "Audience Choice" award, voted on by attendees. Upon accepting the award, winners commit to operate in the Central New York, Finger Lakes, or Southern Tier regions for at least one year, while providing Grow-NY with a small equity investment in each entity. EmGenisys of Houston, TX was chosen for the $250,000 prize.
Judges based award decisions on the following five criteria:
Viability of Commercialization and Business Model– Generation of revenue and maintenance of a cost structure that allows for a competitive and sustainable business; demonstrated readiness of the applicant's technology or innovation to fulfill its needed value proposition.
Team– Demonstration of a level of cohesion, completeness, and readiness within, and diversity and inclusion amongst the founders, employees, and advisors of the business that will allow the team to deliver on its potential.
Customer Value– Provision of significant value for customers for which they are willing to pay; addressing a substantial market.
Agriculture and Food Innovation– Pushing the state-of-the-art in food and agriculture and contributing to making Upstate NY a global leader in agriculture and food innovation.
Regional Job Creation– Potential for creation of high-quality jobs in the Grow-NY Region and relevance to the existing food and ag ecosystem.
EmGenisys improves pregnancy outcomes of livestock embryo transfer and in vitro fertilization (IVF) by providing a comprehensive analysis of embryo health for use by veterinarians in the lab or chute side. Initially beginning with a study at Dr. Russell Killingsworth's veterinary practice in Shamrock, TX, the company has trained machine learning models to recognize signs of embryo life, which can help ensure each embryo transferred into recipients is alive and healthy at time of transfer. This software will soon launch for use by veterinarians and livestock embryologists working with beef and dairy cattle.

In all, 330 startups applied from 32 countries including Singapore, Israel, and Switzerland. In the U.S., 23 states were represented, including 138 entries from New York. 44% of applicants included a female founder and 51% included a founder from an underrepresented minority group, which is a significant increase in founder diversity from last year's applicant pool. The 20 finalists received dedicated mentorship from hand-selected regional business advisors leading up to the competition. Those selected as winners will now immediately get to work executing their business plans in New York State, leveraging the connections they made and regional knowledge they gained from the competition.
"From the minute we were announced as finalists, the New York agricultural community opened doors for us. Dairy is New York's number one agricultural commodity, and it is evident the region supports this industry. We received warm leads to meet with people leading New York's dairy industry including dairy farm owners, veterinarians, Cornell researchers, dairy consultants, and dairy technology firms. We will work with these people to test our product in the lab and field and develop products which can seamlessly integrate into existing embryo transfer or IVF protocols already in use by the dairy industry. We have our eye on a couple of different programs fostering ag entrepreneurs in New York and want to continue to immerse ourselves in the region. We will use this award to not only grow as a company but improve the profit margins and efficiency of the dairy producers and rural veterinarians in New York State" said Cara Wells.

Russell Killingsworth, EmGenisys' Chief Veterinary Officer, shares a similar experience through stating "Thank you to Grow-NY and Empire State Development for their commitment and support of this technology as we partner with the dairy industry to improve animal productivity and profitability".
Empire State Development provided funding for the Grow-NY competition through its Upstate Revitalization Initiative and Cornell University's Center for Regional Economic Advancement administered the competition. The winner will be required to make a positive economic impact in the Grow-NY region which consists of 22 counties within Central NY, the Finger Lakes and the Southern Tier of New York State where there are vibrant farmlands as well as several major urban centers, including Rochester, Syracuse, Ithaca, Geneva and Binghamton. The winning business will help contribute to job growth, connect with local industry partners and contribute to a thriving economy.

To learn more about EmGeisys and its livestock embryo evaluation technology contact Cara Wells at cara@emgenisys.com. To find out more about the remaining Grow-NY winners, mentors and judges, check out grow-ny.com.
EmGenisys, from Houston, TX, is a state-of-the-art embryo health assessment platform that provides the most comprehensive embryo evaluation system, improving pregnancy outcomes of assisted reproductive technologies in livestock.
About Empire State Development
Empire State Development (ESD) promotes a vigorous and growing state economy, encourages business investment and job creation, and supports diverse, prosperous local economies across New York State through the efficient use of loans, grants, tax credits, real estate development, marketing and other forms of assistance. To learn more about ESD visit https://esd.ny.gov.
About the Cornell Center for Regional Economic Advancement
The Cornell Center for Regional Economic Advancement (CREA) supports economic impact in Upstate New York through entrepreneurship and innovation. We help people advance ideas that will create jobs in all fields in our region, to enrich the area's economic diversity. To learn more, visit https://crea.cornell.edu.