There are some events that just truly become a nightmare for farmers. That's the truth for Northwest Washington State and British Columbia province dairy farmers as they are still struggling with the effects from major flooding that occurred in mid-November.
Whenever a natural disaster hits, I am always wowed by the strength and perseverance of the farming community. As flood waters rose, cows were evacuated and taken in, with not a question of if, but how many each farm could take. Those efforts saved thousands.
The work to get those left behind to drier ground is the true testament of dedication. Cows swam out behind boats and Jet Skis, boat loads of wet calves were brought to safety . . . some images stay with you forever. My heart goes out to everyone who fought so hard for their herds; I can't even imagine.

But as the highest flood waters have receded, it is only the beginning of the strength needed to weather the aftermath. Infrastructure has been badly damaged with many roads and rail lines completely washed out, complicating trucking for milk and feed supplies. Even with water everywhere, water lines were also affected and created unsanitary water supplies that ended in milk having to be dumped. It will be a long, hard road of rebuilding.
Although no one ever wants to have to weather the storm of natural disasters, farmers always rise to the occasion doing all that they can. In an already difficult year, I know more than prayers will be needed to help these farms come out on the other side. Continue to support this region as they continue to navigate the aftermath of this disaster.

---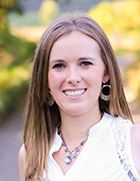 The author is a third-generation dairy farmer from Oregon where she farms in partnership with her husband and parents. As a mother of young sons who round out the family-run operation as micro managers, Darleen blogs about the three generations of her family working together at Guernsey Dairy Mama. Abiqua Acres Mann's Guernsey Dairy is currently home to 90 registered Guernseys and transitioned to a robotic milking system in 2017.