One of my dad's favorite things to tell people while giving tours is, "While we are riding around on the trolly today, you may notice something different than what you might think you would see on a dairy farm, and that is that our team is mostly made up of women." I don't know why, but that is usually a wow factor for visitors. People normally can't fathom the fact that women actually do the work around the farm.
I have loved working with our staff through the years. The older men that worked here when I was young taught me so much. Growing up feeding calves, I made lifetime friends with some of the guys that worked here during high school before going off to college. However, since I have been out of college, I have had more women apply for positions than men.

I am in no way knocking any men in this field of work when talking about my female employees, because the men working for us have all been great. There are differences between the genders, though. When teaching men to walk through herd of cows in the freestall barn, I have to remind a majority of them in the beginning that you can't just speed walk through the pens like you are on a mission. I haven't had to tell the females that as much. It's honestly just the way women are made. We walk less aggressively, move more quietly, and the cows are calmer. Some may not agree with me on these things, and that's ok. It is just how it is here.
The crew of women we have right now are great with handling, moving, milking, and breeding cows. They all work well together. Over the years I have noticed men like lists. They like to have a to-do list, do it in the order it is written, and not have it changed periodically throughout the day by throwing random tasks their way or changing the order that it is written down.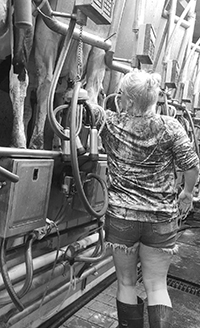 Women, on the other hand, don't tend to mind having things come up and added or being asked to do something else first before the other task at hand. Neither one is better than the other, but it's kind of neat to know from a management standpoint when you need to get the daily jobs completed as well as the unexpected tasks.
Every year, more women flow into the agriculture field. Women have climbed the ladder in the agriculture policy and industry sides as well. After the elementary school tours end at our dairy, the young ladies leave with an understanding that they, too, can be farmers.
---

Mark and Caitlin Rodgers are dairy farmers in Dearing, Georgia. The Rodgers have a 400-cow dairy that averages 32,000 pounds of milk. Follow their family farm on Facebook at Hillcrest Farms Inc.