We've all made it through another holiday season. The Thanksgiving turkey has been carved, the Christmas gifts given, the new year rung in, and we've been fully back into a more normal routine for two weeks now. Depending on your prerogative, that has either provided a sigh of relief or been more like coming down from a (candy cane) sugar high.
On top of the post-holiday slump and chilly weather we've felt in full force already this year, for many people, January means adopting New Year's resolutions . . . that they may or may not see through. Habits they want to kick and changes they want to make become priorities.
I've never been much of a New Year's resolution person, and that's because they can often end up telling us to remove things from our life — quit this, cut back on that, stop doing this. It's another negative thing to handle at a time of year that's not always exciting, especially the past couple of years, and it's easy to quickly give up on it.

Now, I do appreciate the chance to start something with a clean slate. As a year winds down, it makes sense to think about how the upcoming one can be different. Instead of saying I'd be better off getting rid of something in my life, this year I wanted to focus on something more positive: giving more to the people and things I care about.
Maybe it's still the holiday spirit in me talking, but that seems like the most impactful way I can make 2022 better for myself and those around me. Maybe it could be for you, too. For me, it might include:
• Giving more of my time to the organizations and people doing good work around me
• Giving more attention to the needs of my family and friends
• Giving more help to those who ask me, and more independence to those who don't
• Giving myself more freedom to try new things
As long as we're healthy, perhaps there's more value in adding things to life than taking them away. That's my approach for this New Year's "resolution," at least, and I'm optimistic it will be a good rock to lean on not only through the winter but the entire year. We're only two weeks in — there's still time for your resolution, too!

---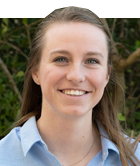 Katelyn Allen joined the Hoard's Dairyman team as the Publications Editor in August 2019 and is now an associate editor. Katelyn is a 2019 graduate of Virginia Tech, where she majored in dairy science and minored in communication. Katelyn grew up on her family's registered Holstein dairy, Glen-Toctin Farm, in Jefferson, Md.