The information below has been supplied by dairy marketers and other industry organizations. It has not been edited, verified or endorsed by Hoard's Dairyman.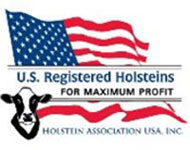 Holstein Association USA recently released the lists of top Holstein Breed Age Average (BAA%) herds for 2021 classifications. Members utilizing the Classic or Standard options of the Holstein Classification program receive an overall BAA for their herd. The BAA value provides a way to compare the score of a herd average to the average of the breed, taking into account the age of the animal and stage of lactation. The calculation puts cows of all ages on the same playing field.
<!-no ad-->
"We were thrilled to see our Holstein classification program have a strong participation year in 2021," said Lindsey Worden, Executive Director, Holstein Genetic Services. "The member herds appearing on any of these recognition lists should be commended for their work in breeding durable and functional Holstein cows."
A total of 982 herds had a BAA value eligible for inclusion on these lists, and their herd BAAs averaged 107.5. The average number of cows included in the BAA calculation for those herds was 68, and herds must have a minimum of 10 cows included in the calculation to be eligible for the list.

Triple-T Holsteins of Ohio earns the honor of having the highest BAA in the U.S. last year, with a BAA of 116.0 on 20 cows. Completing the top five spots on the overall list are Matthew T. Mitchell, Tennessee; Conant Acres Inc., Maine; Eaton Holsteins, New York; and Prestige Genetics, Illinois.
Lists are broken down in several different ways to recognize members across the country with herds of all sizes. Lists of the Overall Top 200 BAA Herds, Top 25 BAA Herds by Region, Top 25 BAA Herds by Herd Size, and Top 15 BAA Herds for Colleges & Universities can be viewed at www.holsteinusa.com. Find the page under the Popular List section on the homepage or directly at www.holsteinusa.com/programs_services/baa_lists_2021.html. Congratulations to all herds on these lists!

More information about BAA and how it can be used to help benchmark your herd and breeding program can be found in the Fall 2021 issue of Holstein Association USA's publication,
The Pulse. The article can be viewed directly at
www.holsteinusa.com/pdf/pulse/pulse_2021_fall.pdf
.