We are to that point in winter when it feels like there is a good chance it will never end. The odds of the sun ever returning to warm the earth just seem too far away. The cold and dreary days can seriously take their toll in the dead of winter.
And yet, there's another part of these cold months that can feel like a blessing in disguise. There's a slowing down before the crazy, busy months of spring. We're in a waiting period, a pause, before the next year's season of growing can begin.

The shorter days offer a little relief from the endless outside to-do list. The chores that need done to prepare for the spring come inside, where we can hopefully recognize the opportunity to seek out warmth and closeness with family before everyone scatters in every direction.
The saying that those who enjoy winter never owned livestock definitely rings true this time of year. But we know that spring will, in fact, come. There are always ways to appreciate the winter calm before the spring storm.

---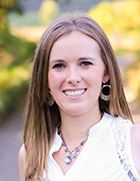 The author is a third-generation dairy farmer from Oregon where she farms in partnership with her husband and parents. As a mother of young sons who round out the family-run operation as micro managers, Darleen blogs about the three generations of her family working together at Guernsey Dairy Mama. Abiqua Acres Mann's Guernsey Dairy is currently home to 90 registered Guernseys and transitioned to a robotic milking system in 2017.