The information below has been supplied by dairy marketers and other industry organizations. It has not been edited, verified or endorsed by Hoard's Dairyman.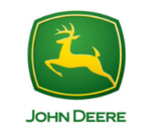 John Deere is showcasing a variety of equipment and technology catered to today's farmers, dairy producers, property owner, and high value-crop producers, along with the latest information of interest to you and your audiences at this year's World Ag Expo, Feb. 8-10, in Tulare, Calif.
Deere invites you to stop by its display (at the corner of "North" and "O" Streets) to see the products listed below and to talk with experts to learn more about the equipment available.

<!-no ad-->
Products to be displayed include:
Frontier BB20 Box Blade
50G Compact (Mini) Excavator
3025E Compact Tractor
1025R Sub-Compact Tractor
5100GN Specialty Tractor
5115ML Specialty Tractor
5090GN Specialty Tractor
5115MH Utility Tractor
6120EH Utility Tractor
5125M Utility Tractor
7 Series Row-Crop Tractor
9 Series Tractor
2680H High-Performance Disk
9900 Self-Propelled Forage Harvester
TE 4x2 Gator Electric Utility Vehicle
HPX615E Gator Work Series Utility Vehicle
XUV590M Gator Crossover Utility Vehicle
W235R Windrower w/ R500 Rotary Platform
If you have questions or to schedule interviews with Deere subject matter experts during the trade show, please contact Aaron Gilbertie at 317-690-7097 or Aaron.Gilbertie@modop.com.