Seasons mean little to nothing here in the Old Dominion State. We can easily experience all four seasons within a few hours. Some mornings, it's maybe 12°F with flurries blowing and a cold that seeps right through your clothes. However, by 11 a.m., you start to take off layers as the sun has suddenly popped out and warmed the Earth up to 50°F. By 1 p.m., the sun is out in full swing, and you are in a t-shirt, sweating, in a warm 75-degree heat wave. Then comes 5 p.m. — fall is back, and dropping temperatures indicate another cold night ahead of us and an early chill. This may seem like an over exaggeration, but welcome to Virginia.
Calves hate this weather more than we do. They have a hard time dealing with the constantly inconsistent weather, which can lead to multiple respiratory issues and bacteria growth. As caretakers, our job is to do everything and anything we can to keep them safe and healthy, even in the worst conditions possible. This is a continuous challenge when one day is hot and the next it snows. Each week, we spend countless days doing nothing but bedding calf hutches, prepping stalls, filling the pack barn with bedding, and making sure each animal is comfortable, safe, and has a way to get out of the elements.

In the midst of our "doomsday" prepping, we will hear a cough, or a calf won't eat. Then it's to the drawing board to conclude where we went wrong. In reality, we did everything and anything, but calves still can't beat the powers of Mother Nature. Mother Nature has her own agenda, and unfortunately for us Virginians, several of those items tend to wreak havoc.
Let me lay this out in the context of a week, instead. On Monday, it'll be 60°F and sunny. The calves and cows are itching to get out and stretch their legs. On Tuesday, it rains, and it doesn't stop raining until Wednesday. On Wednesday, we learn that a snowstorm is moving in, so we frantically tromp through the mud, making sure everyone is adequately prepared. On Thursday, it's 45°F and sunny without the first sign of snow. However, on Friday, we have two feet of snow and it's calling for ice on Saturday, just for the weather to be 70°F by Sunday around noon. So welcome to Virginia — we still have seasons, but they usually all occur within a day or week.

---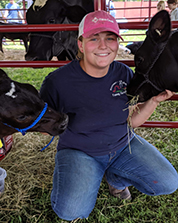 The author is a sixth-generation farmer and fifth-generation dairy producer in southwest Virginia, where she and her family own and operate a 145-head Holstein dairy. Courtney is involved in agriculture organizations throughout her community and is a graduate of Virginia Tech.