The information below has been supplied by dairy marketers and other industry organizations. It has not been edited, verified or endorsed by Hoard's Dairyman.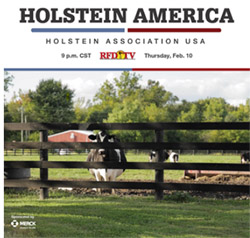 Now in its fifth season, Holstein America will air at 9 p.m. CST, Thursday, February 10, on RFD-TV. The documentary series produced by Holstein Association USA is the only television program of its kind, paying tribute to the nation's dairy farms and families.
<!-no ad-->
"Through Holstein America, we are honored to share the heart and soul of the dairy business — its people, and their commitment to raising and caring for Registered Holsteins®," says John Meyer, CEO of Holstein Association USA. "We hope you join us for their incredible story."
The February 10 episode showcases the diversity of the U.S. Registered Holstein cow, and how she contributes to life in rural America and busy cities alike.
The journey begins at Rolling Lawns Farm near Greenville, Illinois, where a family's century-old operation partners with area restaurants and coffee shops to keep the farming tradition thriving. Holstein America reporter Bob Cervera joins Michael Turley of Rolling Lawns Farm for a tour around St. Louis to see how their dairy products are enjoyed by consumers each and every day.
The show will also feature dairy farms in California's Central Valley, where they are caring for the cows and environment to provide milk and dairy products for people around the world. Just outside Mesa, Arizona, we meet a farming family at Arizona Dairy Company that's committed to genetic improvement, generation after generation. Then we travel south to Georgia, where Benjamin Newberry shares how farming and faith go hand-in-hand at Donacin Dairy.
The hour-long program, sponsored by Merck Animal Health, also explores programs and services offered by Holstein Association USA, including registration, classification, genomic testing and much more.
Join us for Holstein America at 9 p.m. CST, Thursday, February 10, on RFD-TV.
RFD-TV is a leading independent cable channel available on DISH Network, DIRECTV®, AT&T U-Verse, Charter Spectrum, Cox, Comcast, Mediacom, Suddenlink and many other rural cable systems. Reference local listings for more information.
After the show, visit www.holsteinusa.com to find a complete collection of the Holstein America series. Also stay tuned to Holstein Association USA on Facebook and Instagram for more information.