As if the spring 2020 panic about food shortages due to COVID-19 closures wasn't eye-opening enough for consumers to recognize the fluctuations of agriculture, now food prices are climbing at levels not seen in decades. Shoppers spent 8.6% more on food last month than they did in February 2021, according to the latest Consumer Price Index (CPI). That was the largest year-over-year jump since 1981.
Just from January to February of this year, food prices climbed 1.4%. And unlike times during the pandemic when price hikes were often limited to certain types of foods, the squeeze is being felt across the grocery story this time. Beef prices were up more than 16%, pork jumped 14%, poultry climbed 12.5%, and fish and seafood rose 10.4% over last year's levels. Egg prices spiked 11.4%. The dairy category has seen less drama, but prices were still more than 5% higher than this time last year.
Broad price hikes indicate the rising cost of producing food in the U.S., and the February report does not even account for the effects of Russia's invasion of Ukraine. Fertilizer supplies that were already tight are going to feel even more of the brunt since Russia is a significant source of the world's agricultural fertilizer as well as energy. And earlier this month, the agricultural ministry in Ukraine banned any exports of fertilizers in order to preserve supplies for their own use.

On the commodity side, the world's "breadbasket" is facing uncertain cropping ability as Ukrainians fight for their country and safety. The United Nations' Food and Agriculture Organization (FAO) outlined that together, Russia and Ukraine supply 19% of the world's barley, 14% of its wheat, and 4% of maize — and more than one-third of global cereal exports, much of which goes to underdeveloped or low-income countries. They are also major players in the global supply of sunflower oil.
Attempting to make up the deficit in these products while growing others will be an uphill battle for farmers globally. But just like during the pandemic — and every challenging and normal day before and since — farmers will find a way to do the most with what is available. Here in the U.S., in Ukraine, and everywhere in between, we can trust that food will be grown and produced by farmers who are committed to feeding their communities and the world. It may not be ideal or look normal for a time, but innovation and dedication abound in agriculture and will help steady the boat through uncertainty.

---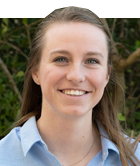 Katelyn Allen joined the Hoard's Dairyman team as the Publications Editor in August 2019 and is now an associate editor. Katelyn is a 2019 graduate of Virginia Tech, where she majored in dairy science and minored in communication. Katelyn grew up on her family's registered Holstein dairy, Glen-Toctin Farm, in Jefferson, Md.