Throughout the years, I've been told time and time again that, "patience is a virtue." I never truly understood that statement until I came back to the farm in 2018 after college. When I came back, I had to take a step back and try to remember that being a college graduate meant nothing when it came to first calf heifers, loan officers, banks, milk co-ops, and the older generation of not only my own farm but the surrounding farms. Yes, I was well-educated and had learned a lot over the years, but coming back full time led to a whole new learning experience most don't have to endure.
"Don't expect anything to change" is exactly what I was told when I graduated. Everyone assumed that I would come back and insist on every change possible with no sense of cost or labor. I had no intention of changing anything. I listened, and when the time was right, I'd make suggestions. Eventually, things were altered and redesigned. It took time, but I waited until it made sense. The more you push, the more they will push back. Waiting is boring and annoying, but sometimes it's the most effective way to be heard.

You'll never learn better patience than when dealing with first calf heifers. They are rambunctious, nervous, frightened little girls who have just had babies and need to be milked. They look cute and innocent, but that's an exact opposite of what they are. Every year, I am reminded why I hate calving season when my back hurts, my arm hurts, and I am completely covered in bruises. From pushing them into the parlor to having to milk them out while they flail their leg aimlessly at you because they have no clue what's going on, they are not an easy feat. As much as we want to retaliate and "teach them a lesson," we can't. They are nervous, scared, and have been asked to do something they've never done before. The last thing we want to do is make it so they associate the parlor with pain. Patience is working hard to calm them down while still maintaining your composure.
As farmers, patience is a virtue we must learn quickly in order to make it. From waiting on cattle to calm down to watching forages grow to maturity, we are required to be patient. Working alongside those with much more patience and experience can be a difficult task for the younger generation as well. Learning how to work with the crops, cattle, and older generations is what makes us successful young farmers that will eventually be where the older generation is — with a little time and patience.

---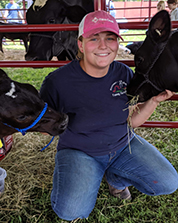 The author is a sixth-generation farmer and fifth-generation dairy producer in southwest Virginia, where she and her family own and operate a 145-head Holstein dairy. Courtney is involved in agriculture organizations throughout her community and is a graduate of Virginia Tech.