Birds chirping, trees turning a bright yellow-green, a warm breeze whistling through the trees, and flowers coming into full bloom are signs that spring is right around the corner. However, on the dairy, we have other unique signs of spring. We have some critters that tend to come back around when the weather becomes more tolerable.
When the time changes and we are finishing work when the sun is still shining brightly, we will stand near our office and look out at our old barn. The old barn has a hay loft about 10 to 15 feet off the ground, and there is enough air space below and above the hay loft for birds to fly through. A lot of birds will make nests under the hay loft on some of the old boards that make up the loft. About late March or early April, we start paying attention to which birds are flying through. When we suddenly see the brilliant dark blue and burnt orange birds start swooping and diving through the barn, we smile. The barn swallows are always one of the first signs that warm weather is here to stay for a while.

The barn swallows dive and glide through the air and put on a show for all of us. We love watching them effortlessly swoop down and glide up as high as they can. They travel from tree to tree and race through the barn. Sometimes, you can barely see them because of the velocity of their flight. Barn swallows are always welcomed with open arms and are a joy to watch throughout the warm weather.
The pattern of the barn swallows is significant for us. Their reappearance in April signifies the beginning of planting and that warm weather follows. We all breathe a sigh of relief knowing the cold is finally over. When they leave in September, it typically means the end of a successful harvest and that cold weather is close. It helps us to better prepare for the cold knowing it's coming sooner than later.
Barn swallows are fun to watch and always bring "news" of what's to come. Their velocity and tenacity make them a sight to be seen. The promise of warmth and warning of cold help to make our lives a little easier. It may be an old farmer's tale, but the barn swallows never seem to lie.

---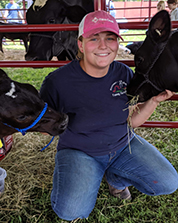 The author is a sixth-generation farmer and fifth-generation dairy producer in southwest Virginia, where she and her family own and operate a 145-head Holstein dairy. Courtney is involved in agriculture organizations throughout her community and is a graduate of Virginia Tech.