When you've been in a drought for the last few years, the top item on your wish list is rain — precipitation to pack the mountains through spring; all those April showers that bring May flowers.
But at some point, the rainfall can be an overabundant blessing. I say that not as a complaint but as an appreciation of a different set of obstacles. If anything, it seems we in the dairy industry are always navigating some obstacle. And Mother Nature is often the least predictable.

So now, instead of having made full use of the pastures and getting ready to make grass silage, for the first time in forever, we've had to pull the cows from pastures that are too wet and continue feeding more hay than we want to.
It's the rollercoaster ride that seems to always have us in its grip in so many aspects of this lifestyle. We need rain to quench a drought, but too much causes problems just the same. There's a possibility on the horizon of $30 milk, but every input cost has skyrocketed right alongside it.

I'm not a big fan of rollercoaster rides, but it's always a good idea to dance in the rain. So, we'll take this obstacle just as we do every other one. Perseverance is always a good driver behind every dairy farmer.
---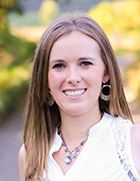 The author is a third-generation dairy farmer from Oregon where she farms in partnership with her husband and parents. As a mother of young sons who round out the family-run operation as micro managers, Darleen blogs about the three generations of her family working together at Guernsey Dairy Mama. Abiqua Acres Mann's Guernsey Dairy is currently home to 90 registered Guernseys and transitioned to a robotic milking system in 2017.