At the start of my career, I worked in purchasing for three dairy manufacturing plants for a major grocer. Our needs ranged from capital equipment to ingredients and everything in between. When issues arose, I quickly learned the vendors I could count on. Problems also became opportunities to find other suppliers. I needed solutions, and I needed people I could count on.
Fast forward a few years and I was working for a food packaging company that supplied dairy processors. As part of my onboarding, my employer had me take a personality test. My manager explained that my results showed I was a "hunter" and would be great at sales. I explained that I was an engineer, not a salesperson, and had zero interest in sales. Since my role was technical, I would troubleshoot equipment and recommend ways customers could improve processes and increase efficiencies.
Sometimes, this resulted in using less of our product; customers appreciated the value this insight brought. The next thing I knew, customers I covered were expanding their purchasing from us and recommending us to others in the industry. Sales grew, and I was responsible. My manager was quick to point this out and asked me to officially expand my role.

I had it in my mind that salespeople lacked credibility. I'm not sure where this originated, but I kind of viewed them as having a script memorized and not much else. I've been on both sides now, and it turns out that is far from the truth. Sales is about building relationships. I'm not talking about taking someone out to a steak dinner or sending a fancy bottle of wine for Christmas. In fact, my first company prohibited these practices, and I appreciated that it kept the focus on the business. Yes, it's much more pleasant to do business with someone who is enjoyable to talk to but having someone willing to help you whether they caused the problem or not is irreplaceable.
Nowadays, I'm back in dairy manufacturing and mostly on the buying end. I wasn't hired to do sales, but it turns out that I just can't help myself from wanting to solve problems and create growth. So, I've developed and expanded some customers along the way. Old ways die hard, so I'm still not completely comfortable with acknowledging that I'm a salesperson. But if sales means bringing value and being dependable, I'd be honored to accept the title.

---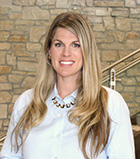 Erin Massey is the product development manager at Prairie Farms, a farmer-owned cooperative based in Edwardsville, Illinois. She is responsible for overseeing all aspects of the development process, from concept to commercialization. Erin grew up on a Florida dairy farm and has a deep-rooted passion to invigorate the dairy industry. Erin earned a bachelor's degree in chemical engineering from the University of South Florida. Her personal mantra is "Be Bold."