The start of a new school year brings a whirl of activity. There are new supplies, new classes, new teachers, new extracurriculars, and a new routine to adjust to.
As college students settle into their fall semester coursework and club activities, they may also have one eye looking ahead to next summer. While those summer days seem far away, many companies are posting their internship opportunities now, or they will be in the near future, and applications will be due before we know it.
If you are a student interested in dairy and journalism, we hope the Hoard's Dairyman editorial internship is on your radar. Every summer, we offer a hands-on opportunity for a student to experience what it's like to work for a national dairy magazine. The internship includes writing opportunities for both our print and electronic publications. Our intern takes the lead on several important projects, too. There are also a few opportunities to travel, representing our magazine at dairy meetings, breed conventions, and farm visits. These trips generate content for the magazine and give our intern a broader view of the dairy industry.

Our intern works from our office in Fort Atkinson, Wis. This allows for daily mentoring opportunities and a chance to be fully immersed into our editorial team. Our interns have come to us from across the county, from Maine to California. If you are enthusiastic about the dairy industry, spending a summer in America's Dairyland is a pretty great place to be!
After the summer, our interns leave with published articles for their portfolio. More importantly, they have expanded their writing skills, gained real world working experience, and learned some beneficial life lessons, too.
If you want to learn more about our Hoard's Dairyman editorial internship, please visit our website for details. Take a look at the video above featuring our 2022 intern, Mikayla Peper, to learn a little bit about her experience.
The application due date for our 35th internship is quickly approaching. We encourage any students with a passion for writing and dairy to apply by Friday, October 21, 2022. Students should send a cover letter, résumé, grade transcript, and two letters of recommendation to Abby Bauer, Senior Associate Editor, 28 Milwaukee Ave. West, Fort Atkinson, WI 53538.

If you have any questions, please contact us at (920) 563-5551 or abauer@hoards.com. Remember, all application materials are due by October 21, 2022. If your future career aspirations include communications within the dairy industry, we encourage you to apply!

---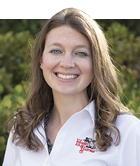 Abby Bauer
The author is the senior associate editor and covers animal health, dairy housing and equipment, and nutrient management. She grew up on a dairy farm near Plymouth, Wis., and previously served as a University of Wisconsin agricultural extension agent. She received a master's degree from North Carolina State University and a bachelor's from the University of Wisconsin-Madison.