Ready or not, the holidays are here. It's a time to gather with family and friends to celebrate and a season full of joy, laughter, and food.
The holidays always put into perspective how our culture revolves so much around food. Celebrations are always accompanied by special meals or treats. Thanksgiving is literally the celebration of a feast. It's these special times of year that make me even more proud to be a farmer.
The dairy products we produce play such a major role in the success of these important meals. Where would the mashed potatoes be without butter or sour cream? Have you ever seen anyone not be happy gathered around a cheese board? And pumpkin pie just wouldn't be complete without whipped cream.

There is such contentment that comes from a wholesome meal full of real ingredients and seeing consumers truly appreciating and enjoying the ingredients that are important to their special dishes. This season brings a sense of pride for the contribution we make to this special time of year.
This Thanksgiving, don't forget to give yourself an extra thankful pat on the back for our dairy contributions to the feast. It really is something to be proud of that we can count among our blessings as we take the time to think about all that we are thankful for.
Happy Thanksgiving!
---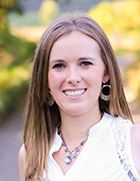 The author is a third-generation dairy farmer from Oregon where she farms in partnership with her husband and parents. As a mother of young sons who round out the family-run operation as micro managers, Darleen blogs about the three generations of her family working together at Guernsey Dairy Mama. Abiqua Acres Mann's Guernsey Dairy is currently home to 90 registered Guernseys and transitioned to a robotic milking system in 2017.