With federal and state legislatures now back in session, eyes are turning to what agricultural policy might look like in the upcoming year. Especially in a farm bill year, federal policy decisions will affect farm support programs, trade abilities, nutrition access, and much more. State officials will be making environmental, financial, and labor decisions that will impact farms even closer to home.
After last fall's elections, many of the representatives that have moved into these chambers are new to their positions. Others may be joining a new committee or subcommittee. Even seasoned legislators will be contemplating new issues and bills. So, while it's never a bad time to write to your representative, this new session is a great opportunity to express your perspective to them on action that may be taken in the coming months.

Writing a letter or email to a lawmaker is the way to make your voice heard on the topics that matter to you. A concise, carefully crafted message is a powerful tool for constituents, said the American Farm Bureau Federation (AFBF). They provided a few considerations and steps to take so that your message is effective:
1. Address your letter properly and refer to the lawmaker appropriately to ensure it gets to the right place. You can find your representatives and the physical or email address to send your message to online. Click here for federal Senators and Representatives.

2. Start the letter by introducing yourself. Include where you live and perhaps how long you've been in their district as well as what you do for work or where you go to school.

3. Then, explain why you're writing. If you want to address a specific position or bill, describe it. Include a personal experience when applicable but keep it concise. You may also want to include current statistics or perspective on the scope of the issue. Consider if the lawmaker is undecided or may be unaware of the concern.

4. Once you have given the representative some background on you and the issue, ask them to take action. Is there an upcoming vote relevant to your topic or a bill that you would like them to review, support, or introduce? This is the time to make your ask.

5. Finally, close the letter respectfully. You may choose to be more formal or more personal. Thank them for taking time for your point of view.
Lawmakers must stay well-versed on a broad range of topics, but remember that your vote and your voice matters, AFBF said. Representatives are elected to serve you and want to know about the issues that matter to their constituents.

---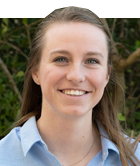 Katelyn Allen joined the Hoard's Dairyman team as the Publications Editor in August 2019 and is now an associate editor. Katelyn is a 2019 graduate of Virginia Tech, where she majored in dairy science and minored in communication. Katelyn grew up on her family's registered Holstein dairy, Glen-Toctin Farm, in Jefferson, Md.