Holidays look different when you lead a farm life. Whether it's Christmas or Valentine's Day, we just usually don't get to spend them in a traditional way. But that is the beauty of this lifestyle and finding love where you are.
That's been a bit of a motto for me lately, finding love where I'm at. Call it winter blues or maybe it's just farmer reality, but there's some part of the end of the winter season that hits harder. All the problems and issues compound, which makes it really easy to shake your head and wonder why in the world you farm. Warm, cozy inside jobs definitely make so much more sense. This almost dismal, overhanging cloud can make everything seem difficult and goals so far away.
It takes finding and remembering the love we all have to hold on to this way of life. So, it feels appropriate that the holiday of love arrives during this time.
I've never been one to appreciate the commercial aspect of Valentine's Day; it feels forced. But it does switch your frame of mind to a positive point of view, even if you have to dig a little deeper to be reminded of the love in your life.

Obviously, at top of the list should be the people in your life. But let's be honest that, with a farming schedule, we probably don't have the time we would like to nurture our relationships. Instead, it's about finding the love in the little and simple ways every day. There will always be a to-do list that's a mile long, but life is short and all too often tragically unexpected. Don't leave the "I love yous" unsaid!
I probably sound like a broken record, but it's truly the little and simple things that make up the bigger picture of dairy farming. It's finding the love in sunrises and sunsets, or the love in working together as a family. It's finding the love in the chaos. Truly appreciating those moments, like a newborn heifer calf, renew your love for this life all over. And it's about remembering that no matter how far you are from where you would ideally love to be, there is still so much love to be found right where you are.

Even if you don't make it to a fancy restaurant tonight to wine and dine with your significant other, I hope you can find the love where you are.
---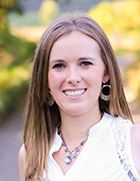 The author is a third-generation dairy farmer from Oregon where she farms in partnership with her husband and parents. As a mother of young sons who round out the family-run operation as micro managers, Darleen blogs about the three generations of her family working together at Guernsey Dairy Mama. Abiqua Acres Mann's Guernsey Dairy is currently home to 90 registered Guernseys and transitioned to a robotic milking system in 2017.