Most days, 5:30 a.m. finds me at a local gym. The format is a group training session that lasts 45 minutes. It is efficient and leaves no time to chat. Even though I do not know those sweating beside me very well, you quickly create an unspoken bond when you're working hard and surrounded by the same faces every morning.
The other morning, I was struggling to keep pace. Right as I started to allow myself to slow down, I heard "You've got this, Erin!" from the station nearby. It caught my attention because it was not the trainer encouraging me. It was another gym-goer pushing me to finish strong. And with that extra boost of mental fortitude amidst muscle reluctance, I did.
A few weeks prior, I had happened to hear that this gym-goer, April Clemens, grew up on a dairy farm in South Dakota. At the time, I had briefly introduced myself, sharing that we had similar backgrounds. That quick conversation was all it took to know we were both willing to work hard and not afraid to challenge each other to be better. Game on.
I do not know April's phone number. I could not tell you her husband's name. Nevertheless, I know we have a bond built on a shared work ethic and tenacity. We grew up doing hard things. We have sorted springers from dry cows. We were patient when a newborn calf was just getting the hang of taking a bottle. We have been kicked when prepping a first-calf heifer to be milked. We were raised in an environment that innately breeds perseverance and teamwork.
So, when we are all-out sprinting and trying to beat each other, we know that we are wired the same. It is a friendly competition between two dairy girls that hold each other to a higher standard. It is hard to find your people in a town you did not grow up in. That dairy bond runs deep, and I am forever grateful for its instant ability to speak volumes and form connections.
---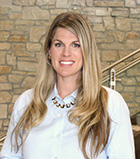 Erin Massey is the product development manager at Prairie Farms, a farmer-owned cooperative based in Edwardsville, Illinois. She is responsible for overseeing all aspects of the development process, from concept to commercialization. Erin grew up on a Florida dairy farm and has a deep-rooted passion to invigorate the dairy industry. Erin earned a bachelor's degree in chemical engineering from the University of South Florida. Her personal mantra is "Be Bold."