I know that not everyone has loved my last few articles. When I write, I want to make people think and hopefully start a conversation. Having said that, I want you to know that this wasn't an easy article for me to write, but I think it's a necessary conversation to start.
Whether you want to admit it or not, dairy farmers come from a mold. I didn't want to admit it because it's not the most flattering image. We're often stubborn . . . like, to the point it can inhibit us. We're typically not very quick to adjust to change and can be ridiculously close minded. We walk around like we have a chip on our shoulder, yet we feel like we're more of a farmer than other types of farmers. We brag about the fact that we haven't taken a vacation in years and look down on those who get weekends off. We treat our farms as more of a legacy than the businesses they truly are and need to be. We willingly run ourselves into the ground just to continue running ourselves into the ground. Is that a good life? Is that even a life? Because lately, I can't help but wonder.
I won't go into how hard it is to be a dairy farmer because I think we've beaten that topic to death. But think about all of the hard things we do, all the moments we've missed, and the trips we've never taken. How does it feel to know that we've done that to ourselves? How many times have we not faced the reality of a situation because it's too much change? Like the lifelong Holstein breeder who won't add any Jerseys to the herd even though a cheese plant just opened down the road. Or the family farm unwilling to downsize the herd even though help is becoming increasingly difficult to find reliable help. We don't take big changes seriously because it feels like we're letting down generations of ancestors who gave everything for what we're doing now. We feel pressured to honor them when we didn't even know them. We are so passionate about our farms that we stop living for everything else. Guys, I don't think that's okay. You can scoff at that statement and say it's not true, but it is. Last week, the thought hit me from out of nowhere. Has our passion has become toxic?
I don't know the answer to this because I don't want it to be true. I love this life. I love the people it has introduced me to and the opportunities it has given me. But I'm also starting to realize that this isn't really a life.
I want to leave you with one last thought before you hate on everything I said in the comments. For a group of people so willing to make big changes for our cows, why can't we do the same for ourselves?
---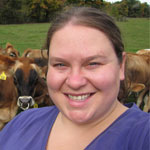 Jessica Peters
The author dairies in partnership with her parents and brother at Spruce Row Farm in Pennsylvania. Jessica is a graduate of Pennsylvania State University, and since 2015, she has been active in promoting dairy in her local community. You can find her and her 250 Jersey cows on Facebook at Spruce Row Dairy or on Instagram at @seejessfarm.