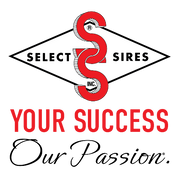 The information below has been supplied by dairy marketers and other industry organizations. It has not been edited, verified or endorsed by Hoard's Dairyman.
A new genetic defect referred to as calf recumbency was recently introduced by the Council on Dairy Cattle Breeding (CDCB), Holstein Association USA, Inc., and the National Association of Animal Breeders (NAAB). Because there is not yet a method or system in place for cataloging sires that have been DNA tested as carriers for this genetic defect, developing a tool to manage and minimize the effects of calf recumbency became a priority for Select Sires. Today, the cooperative is excited to announce that calf recumbency test results have been incorporated into the Select Mating Service® (SMS®) program for sires in the Select Sires lineups. This new feature will help genetic consultants and farmers make the most informed mating decisions and minimize the effects of calf recumbency in their herds.
<!-no ad-->
Since the introduction of calf recumbency in April, Select Sires has taken action to provide customers with the most accurate and up-to-date information possible. The genetics team is aggressively testing all sires and will report DNA results for individual sires to NAAB once a national database has been developed. Until this database decision is finalized, the status of tested Select Sires bulls can be found on the website here: www.selectsires.com/recumbency-results. As more A.I. organizations test and report the carrier status of their sires, these results will also be added to the SMS database.
Genetic conditions of economic loss are not new to our industry. Reacting to this new condition in a responsible way will again provide superior genetic advancement while minimizing the long-term economic effects. Public testing is readily available with Genetic Visions and Feanix Bio, and more labs will soon also perform this service. Holstein breeders should consider testing their most valuable females for this condition. If females are not tested, making strategic decisions about all matings based on known sire pedigree stacks will provide another level of safeguards. These methods will allow the use of carrier sires that have extreme economic values, like those ranking high for the Herd Health Profit Dollars™ (HHP$™) index, to drive more dollars into your genetic portfolio. Your Select Sires representative is prepared to assist you with genetic advice to meet your breeding goals and maximize herd improvement.

Based in Plain City, Ohio, Select Sires Inc., is the largest global A.I. cooperative and is comprised of six farmer-owned and -controlled local organizations in the United States. As the industry leader, it provides highly fertile semen, as well as excellence in service and programs to supply dairy and beef producers with the world's best genetics.