Inaugural Cattle Production Veterinarian Hall of Fame Recognizes Influential Veterinarians
Drs. Harold Amstutz and Dan Upson honored for life-long dedication to cattle production veterinary medicine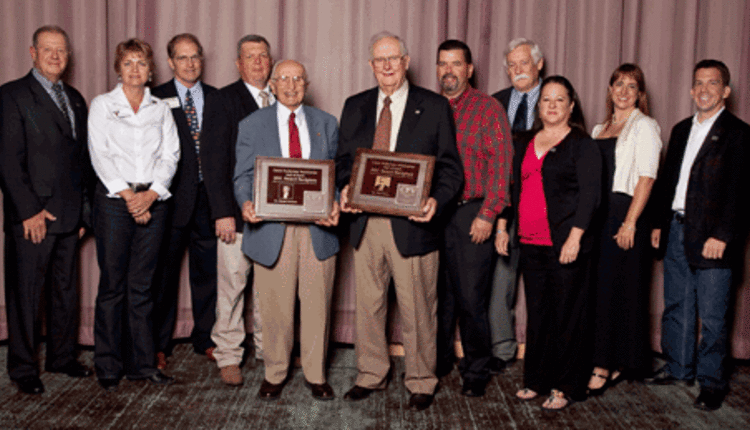 2011 Cattle Production Veterinarian Hall of Fame Inductees Drs. Harold Amstutz and Dan Upson, center, are congratulated by Hall of Fame sponsors, left to right: Dr. Bill Swafford, Academy of Veterinary Consultants; Drs. Christine Navarre and Gatz Riddell, American Association of Bovine Practitioners; Dr. John Mayer, Academy of Veterinary Consultants; Rick Cozzitorto and Dr. Mark Spire, Merck Animal Health; Geni Wren, Bovine Veterinarian; and Becky Terry and Luke McKelvie, Osborn & Barr.
Hundreds of cattle production veterinarians gathered to celebrate the central role that veterinarians have in food production and recognize two men for their incredible contributions to the industry.
Harold Amstutz, D.V.M., and Dan Upson, D.V.M., M.S. Ph.D., were honored as the inaugural inductees to the Cattle Production Veterinarian Hall of Fame (CPVHOF) Sept. 24. A special banquet was held in their honor during the American Association of Bovine Practitioners (AABP) annual conference in St. Louis.
"During the course of our industry's history, the art and science of veterinary medicine have been intertwined, and there always has been a symbiosis as a result," said Keith Sterner, D.V.M., keynote speaker for the event. "Veterinary medicine has been instrumental in improving the health of cattle, as well as in helping to ensure that foods derived from them are healthy and wholesome for consumers."
The CPVHOF was established to celebrate the rich traditions of American cattle production veterinary medicine by honoring the exceptional men and women who have made lasting contributions to their profession. Inductees are true pioneers whose achievements span their entire careers. The inductees were selected from among their peers, and all AABP and Academy of Veterinary Consultants (AVC) members had the opportunity to vote for one beef and one dairy veterinarian.
Dr. Harold Amstutz, West Lafayette, Ind.
2011 Dairy Inductee
Dr. Amstutz is well known for pioneering and supporting both national and international organizations for bovine veterinarians. He held several leadership positions throughout his career, including roles as president of the World Association for Buiatrics and the American Association of Veterinary Clinicians. He also served as chairman of the organizing committee and president of the American College of Veterinary Internal Medicine. He also served AABP in various capacities, including 23 years as the organization's first executive vice president.
"During the years of my association with Dr. Amstutz, I could not begin to count the ways that he has served as an example and mentor," said Dr. Sterner, who has known Dr. Amstutz for many years and presented the award. "His personal qualities along with the breadth and scope of his contributions to our profession and society as a whole make him incredibly deserving of this great honor."
Born near Barrs Mill, Ohio, Dr. Amstutz received his bachelor's and veterinary medical degrees from The Ohio State University. He had a private veterinary practice in Orrville, Ohio, before becoming an instructor of veterinary medicine at The Ohio State University, where he later became chairman of the Department of Veterinary Medicine. He moved on to become head of the Department of Veterinary Clinics at Purdue University and served as the section head of large animal medicine. His research focused on calf diseases, bovine respiratory disease, dehorning, bovine lameness and stray voltage.
"I can't believe how much time has passed by, but this is one of the best days of my life," said Dr. Amstutz, 92, as he addressed the crowd. "I've always tried to do what feels best and humbly accept this honor. I am truly thankful to you all."
Dr. Amstutz is a professor emeritus of veterinary clinical sciences at Purdue University and consults with dairy producers, veterinarians and insurance companies across North America. He and his wife, Mabelle Jo, live in West Lafayette, Ind., and have four children: Suzanne, Cynthia, Patricia and David.
Dr. Dan Upson, Manhattan, Kan.
2011 Beef Inductee
Dr. Upson is best known for his commitment to helping cattle producers provide safe, wholesome beef through residue avoidance and providing practitioners with knowledge and guidance for the prudent use of animal-health products in beef cattle production medicine. He helped lay the groundwork for regulations in drug compounding and for veterinary prescription drug distributors. His Handbook of Clinical Veterinary Pharmacology is in its fourth edition and is widely used throughout the field of veterinary medicine.
"Dr. Upson is best presented as an emotion, an attitude and a passion for doing what is right as we produce the food that feeds this nation and this world. He was the pioneer in applying the science of pharmacology to clinical applications for food-animal practitioners. And in his work, he wanted nothing else but to help all of us get it right," said Mike Apley, D.V.M., Ph.D., a past student of Dr. Upson's who presented the award. "We always knew that Dr. Upson was investing in us. It was more than his job; we were his life's work. I am among a lucky few able to learn both academic and life lessons under the tutelage of Dr. Upson."
A native of Hutchinson, Kan., Dr. Upson received his bachelor's, master's, doctorate and veterinary medical degrees from Kansas State University (K-State). He established a private practice in Pretty Prairie, Kan., for seven years and then held a 35-year tenure at K-State, teaching pharmacology and serving as a section leader in veterinary extension. He also enjoyed working as a referee for college football games. He now is professor emeritus in pharmacology at K-State.
"Folks, I am blessed," said Dr. Upson, 82, as he received the award. "I accept this recognition on behalf of my friends and my colleagues, who I hope are one in the same. I am grateful, honored, pleased and humbled."
Dr. Upson is a past president of the Kansas Veterinary Medical Association and the K-State Alumni Association board of directors. He also served on the AVC board of directors for three terms. Dr. Upson and his wife, Stephanie, live in Manhattan, Kan., and have three children: Connie, Ron and Elizabeth.
Lasting impressions
"Mentoring is about how we expect ourselves to take on challenges, and challenge ourselves in our endeavors. Those are the real legacies of mentorship," said Dr. Apley. "Few people have the combination of knowledge, passion and sheer force of personality to be one of the drivers of the face of an industry."
Both of the inaugural inductees were outstanding mentors to countless veterinarians during their combined 77 years in academia.
"These two men have forever changed cattle production veterinary medicine," said Mark Spire, D.V.M., technical services manager for Merck Animal Health. "We are pleased to lead the way in recognizing them for their contributions to the industry."
Five organizations sponsor the hall of fame including AABP, AVC, Bovine Veterinarian, Merck Animal Health and Osborn & Barr Communications.
"What an honor to be here tonight, with those who have made such incredible contributions to the agricultural industry," said Mike Adams, host of AgriTalk radio, emcee for the CPVHOF banquet. "Thanks for the part you play in feeding the country and the world."
Merck Animal Health
Today's Merck is a global healthcare leader working to help the world be well. Merck Animal Health, known as MSD Animal Health outside the United States and Canada, is the global animal health business unit of Merck. Merck Animal Health offers veterinarians, farmers, pet owners and governments one of the widest ranges of veterinary pharmaceuticals, vaccines and health management solutions and services. Merck Animal Health is dedicated to preserving and improving the health, well-being and performance of animals. It invests extensively in dynamic and comprehensive R&D resources and a modern, global supply chain. Merck Animal Health is present in more than 50 countries, while its products are available in some 150 markets. For more information, visit www.merck-animal-health.com.
10.07.11