Artist Gary Sauder of Cloverdale, Calif., has donated an original painting in pastels to be sold for the benefit of Jersey Youth Academy at The 59th All American Jersey Sale at November 6, 2011 in Louisville, Ky.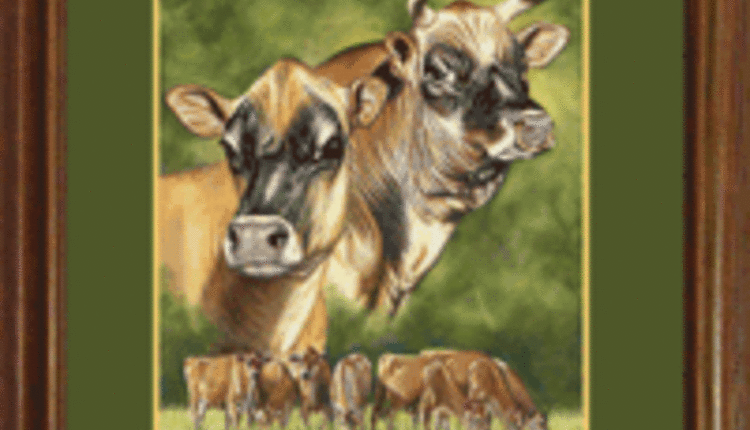 "Generations," a 16" by 20" pastel on suede, captures "the beauty and character of the Jersey cow along with the care and dedication in developing the next generations of Jerseys and breeders of Jerseys," Sauder says. The artistic effect is enhanced by a custom frame creating a 24" by 28" finished work that will have a substantial presence in any home or office.
Sauder, a native of northern California, was an accomplished exhibitor of Registered Jerseys™ as a youth. He was awarded the 1979 Paul Jackson Memorial Scholarship while attending California Polytechnic State University, then later worked with the show string for Meadow Glen Farms, Orland, Calif. Sauder's work has been juried into many exhibitions, including Southwest Color '98 in San Diego, Tracy Art League, the Amsterdam Art Contest, and Art on the Move. He is a resident artist at the Healdsburg Center for the Arts.
The painting will be sold at the start of sale at 5:00 p.m. on November 6. Absentee bidders can contact any member of the American Jersey Cattle Association staff to be represented in complete confidence.
The Jersey Youth Academy is a 501(c)(3) private foundation managed by the American Jersey Cattle Association to attract, educate and retain talented young people for careers in the Jersey dairy business. It provides an in-depth educational program focused specifically on the Jersey cow and the Jersey business, while challenging participants to explore the broad range of career opportunities involving Jerseys and the dairy industry For more information, visit the Academy web site (http://academy.usjersey.com), contact program coordinator Dr. Cherie L. Bayer at (614) 322-4456, or write Jersey Youth Academy, 6486 E. Main Street, Reynoldsburg, OH 43068-2362.
10.11.2011