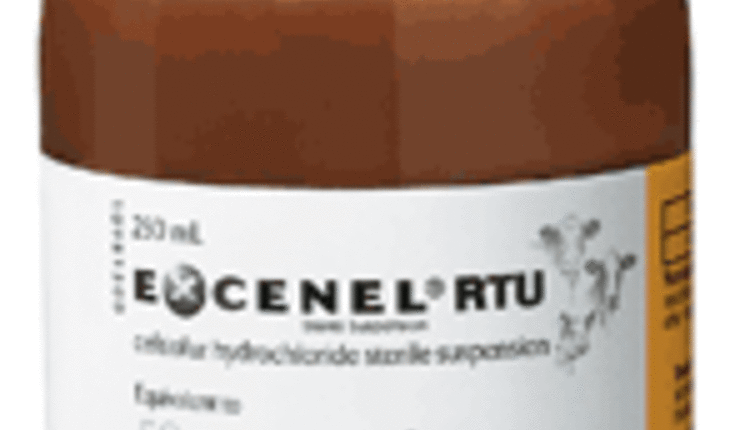 EXCENEL® RTU (ceftiofur hydrochloride) Sterile Suspension is now available in a 250 mL vial. This gives producers and veterinarians a more convenient size of the only treatment for metritis – that also has zero milk discard – approved by the Food and Drug Administration (FDA).
"Veterinarians and producers already know they can count on EXCENEL RTU to be at its best when metritis is at its worst," says Matt Nelson, marketing manager, cattle anti-infectives, for Pfizer Animal Health. "We are pleased to introduce the new 250 mL vial in response to customer requests for a larger, more convenient size."
The larger size allows producers and veterinarians to treat more cattle with one vial, which takes up less space on the shelf and produces less waste. EXCENEL RTU is indicated to treat acute post-partum metritis, as well as the major causes of pneumonia and foot rot, with the convenience of zero-day milk withdrawal and a short three-day meat withhold. The product is backed by the Residue Free Guarantee* from Pfizer Animal Health, providing assurance that when used according to label indications, EXCENEL RTU will not cause a violative residue in milk or meat.
"EXCENEL RTU is an efficacious, responsible fresh cow treatment that helps keep cows' milk in the tank," Nelson says.
To keep your cows working the responsible way with EXCENEL RTU, contact your veterinarian or Pfizer Animal Health representative. Visit
www.AvoidResidues.com
to learn more about the Residue Free Guarantee and how to prevent drug residues on the dairy.
Important Safety Information: As with all drugs, EXCENEL RTU should not be used in animals found to be hypersensitive to the product. EXCENEL RTU has a pre-slaughter withdrawal period of three days.
Prescribing Information
About Pfizer Animal Health
Pfizer Animal Health, a business of Pfizer Inc., is a world leader in discovering and developing innovative animal vaccines and prescription medicines, investing an estimated $300 million annually in animal health product research and development. For more information about how Pfizer Animal Health works to ensure a safe, sustainable global food supply from healthy livestock, fish and poultry; or helps companion animals and horses to live longer, healthier lives, visit www.PfizerAH.com
.

10.11.2011