At the company's national sales meeting last week, Accelerated Genetics unveiled in dramatic fashion a new brand and corporate identity. The new look pays homage to the company's 70-year history while focusing on the three things that will continue to carry the cooperative into the future-it's people, products and pride.
"As part of our 70th anniversary celebration, we wanted to do something to pay tribute to our cooperative's rich history that also helped us set sail for a bright future," says Joel Groskreutz, Accelerated Genetics President and CEO. "Our new brand is reflective of both our heritage and our opportunity."
As part of the rebranding process, Accelerated Genetics surveyed employees and customers, in the U.S. and across the globe, to assess their perception of the cooperative. The process identified three clear areas that, when combined, create unique opportunities for Accelerated Genetics in the dairy marketplace:
• People –
"We know we have the best people working for us. Their expertise, longevity and commitment to bringing solutions to our customers is second to none," says Groskreutz.
• Products –
Accelerated Genetics features the most complete lineup of genetics to fit the needs of any dairy and beef producer. In addition, the cooperative offers top-shelf nutritional products to support early calf and fresh cow needs.
• Pride –
"It's easy to take pride in our cooperative when we have great people and great products. Our pride shows through in everything we do, and our customers recognize and appreciate the commitment we have to their business," says Groskreutz.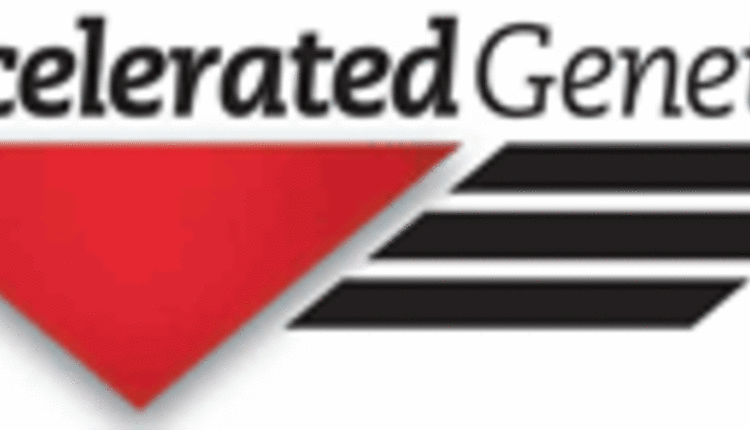 The new logo reflects the essential elements of the rebranded cooperative. The red triangle, part of the cooperative's logo since the beginning, represents the company's history. The three black bars to the right of the logo signify the people, products and pride focus.
"We appreciate our history, but we're confident that we are correctly positioned to take advantage of future opportunities," says Groskreutz.
Accelerated Genetics is a global provider of bovine genetics and research, reproductive services, and solution-based animal health products. With a focus on People, Products and Pride, the Accelerated Genetics vision is to be the producer's trusted first choice.
Click to see the video introducing Accelerated Genetics brand!
11.03.2011