Local Farmstead Creamery Flavors up the Holidays with Sassy Cow Creamery Egg Nog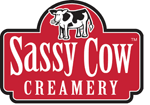 Sip a little joy or stir up your favorite holiday specialty with Sassy Cow Creamery Egg Nog, a local farmstead creamery classic, now available at select local grocery and natural foods stores for the season.
Located just north of Sun Prairie, Sassy Cow Creamery owned and operated by Brothers James and Robert Baerwolf, third generation dairy producers along with their families, offer fresh-bottled organic and traditional milk, delectable ice cream and dairy products including seasonal favorite - Egg Nog - direct to consumers straight from the farm.
A taste synonymous with the holidays, Sassy Cow Creamery Egg Nog starts with a key ingredient high-quality milk from the cows at the Baerwolf family farm and within hours of milking is made into egg nog at the Farmstead Creamery, making truly a fresh, local product.
"Indulge in true holiday tradition and taste with Sassy Cow Creamery Egg Nog," says James Baerwolf along with his brother Robert Baerwolf. "This signature combination of high quality milk and cream fresh from our family farm, mixed with egg yolks and soothing nutmeg is sure to be a holiday family favorite."
Not only can this holiday classic drink be refreshing to sip, but can add simple wholesome flavor to create celebration-worthy dessert specialties by easily stirring in egg nog from Sassy Cow Creamery. Egg nog is the perfect ingredient for making classic holiday desserts - from pecan pie to cookies and even cheesecake.
Another irrestible treat made using fresh milk produced by the cows of Baerwolf family farm is Sassy Cow Creamery premium ice cream which recently won first place honors at the the World Dairy Expo Dairy Product Contest in Madison, Wis., for its delectable dark cherry chocolate ice cream. With dozens of unique one of a kind ice cream flavors to choose from including Salted Caramel and Purple, there is one sure to tempt your taste buds.
When gathering around the table with family and friends this season, be sure to have Sassy Cow Creamery Egg Nog and delicious dairy products on the table for the holiday and every day. To find a local grocery or natural foods store offering farm fresh favorites from Sassy Cow Creamery, visit www.sassycowcreamery.com or contact Kara Kasten at 608.445.2010 or kara@sassycowcreamery.com. For the latest on Sassy Cow Creamery news, holiday recipes, happenings on the farm and more friend us on
Facebook.
A state-of-the-art farmstead creamery, started in 2008 by owner-operators Brothers James and Robert Baerwolf, and families, Sassy Cow Creamery produces organic and traditional bottled milk, heavy cream, half and half, premium ice cream, milkshakes and ice cream cakes, all derived from farm-fresh milk produced from the family's two dairy herds. As the third generation to farm the land dating back to 1946, the Baerwolf family's dual dairy herds today have grown into a 400-cow traditional dairy and 100-cow organic dairy, just miles apart and near the creamery. Sassy Cow Creamery offers consumers local choices including whole 2 percent and fat-free traditional and organic milk bottled in gallons, half gallons and pints and Chocolate and strawberry milk. Conveniently located just fifteen minutes north of Madison, come visit the Sassy Cow Creamery on-farm retail store at W4192 Bristol Road, Columbus, Wis. Tours are available the first Friday of each month to see firsthand how milk is produced by the cows, then bottled or made into award-winning premium homemade ice cream. Come taste the local difference.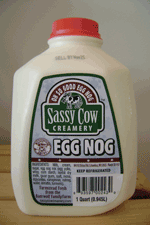 Recipe Using Sassy Cow Creamery Egg Nog, just in time for the Holidays
Egg Nog Cheesecake Bars
Creamy, eggnog-flavored cheesecake tops the rich, butter crust of this nutmeg-scented bar.
15 min. prep time 1 hour 30 minutes total time
Makes 36 bars
Crust
1/3 cup sugar
1/2 cup butter softened
1 1/2 cups all-purpose flour
1/2 teaspoon ground nutmeg
Filling
1/2 cup sugar
1/2 cup Sassy Cow egg nog
2 (8-ounce) packages cream cheese, softened
3 eggs
1 tablespoon all-purpose flour
1/8 teaspoon ground nutmeg
Directions
Heat oven to 350°F. Combine 1/3 cup sugar and butter in large bowl. Beat at medium speed until creamy. Reduce speed to low; add 1 1/2 cups flour and 1/2 teaspoon nutmeg. Beat until well mixed. (Mixture will be crumbly.) Press crust mixture onto bottom of ungreased 13x9-inch baking pan. Bake for 15 to 17 minutes.
Meanwhile, combine all filling ingredients except nutmeg in same bowl. Beat at medium speed, scraping bowl often, until mixture is creamy. Spread filling over hot, partially baked crust; sprinkle with 1/8 teaspoon nutmeg. Continue baking for 28 to 33 minutes or until set. Cool completely. Cut into bars with wet knife. Store refrigerated.
11.16.2011