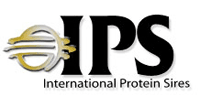 Multiple components of the International Protein Sires lineup elevated IPS to Pacesetter Genetics with the December 2012 sire summaries. "The IPS proven sire battery saw significant advancements with the recent proofs. Additionally, our newest genomic tested young sires add prestige to the IPS offering. These pacesetting genetics have resulted in strong endorsement by progressive minded dairy farmers worldwide," stated Ron Sersland, President and CEO of IPS.
The leading TPI proven sire is 6HO1063 Showboy at +1927. This Shottle son is a component specialist and a fitness sire at +3.3PL. His type rating is nearly +2.00 with exceptional udder composite and foot and leg composite ratings. A bull known for transmitting strength, Showboy is backed by three generations of Gold Medal Dams, all having outstanding milk yield with high components.
6HO1046 Bevan is a proven sire that gains prestige with each sire summary. At +1894 GTPI, Bevan is a well-balanced bull for solid production and enviable type traits. In addition, Bevan's productive life at +4.6 quantifies his fitness attributes. Bevan's very deep cow family shows seven of his eight nearest dams classified Excellent. Additional attributes include his aAa assigned numbers of 246135 and DMS numbers of 456, rare analysis in the Holstein breed.
The newest IPS release is 99HO6145 Barry. This proven sire brings together solid production and type along with positive components. A boastful SCR (semen conception rate) of +4.9 is another Barry attribute. The universally popular and Gold Medal rated Shottle is
Pacesetter Genetics for IPS – page 2
the sire of Barry. On Barry's maternal side, his three direct dams have received Gold Medal Dam designations. nd, all three have superior components.
Three recent young sire additions have prominent genomic information. A Superstition son from an Excellent Shottle daughter, 6HO1163 Lights Out is +2,340 GTPI. An Atwood son from a Very Good Mac daughter, 6HO1162 Lets Go comes in at +2,168 GTPI. And, 54HO0582 Kindman-Red at +1867GTPI offers unique outcross bloodlines. Kindman is a Belmond-Red son from a Redwood daughter.
The IPS sire lineup has superior milk performance ratings with three proven bulls in the top eleven for the breed. 6HO1150 Yankee is #2 at +2,468M, 6HO1030 Lilyman is #9 at + 2,222M and 6HO1156 Lucifer is #11 at +2,201M. Leading the way on the type side is 6HO1068 Dynasty at +3.01T and 6HO1170 Luster rated at +2.83T. Two proven bulls excel for udder composite, 6HO1036 Arrow is listed at +2.47 whereas 6HO1068 Dynasty shows +2.55. On the red scene, 6HO1124 Tycoon-Red is #5 for TPI among Red & White proven sires at +1736 and #1 for productive life resulting from a 6.1 score.
These recent genetic advancements position the IPS bulls among the breed's pacesetters. IPS has built their ever-expanding sales through a worldwide network of independent distributors. Located in Rock Springs, Wisconsin, you may learn more about IPS through their website, www.ipssires.com or by calling toll free: 1.800.542.7593
12.12.2011