CST Storage is proud to introduce the Harvestore Talon™ unloader chain for Harvestore™ unloaders.

After months of research and testing, the Harvestore Talon enters the market as the most efficient, highest delivery chain and hook combination in the industry, says Rick Jones, Commercial Services Director of Agriculture for CST Storage. According to Jones, the Harvestore Talon has tested 39% stronger overall than prescribed specifications because of its design and side bar materials.
"Two of the main qualities we were aiming for while developing the new line of Harvestore unloader chains were strength and efficiency," Jones says. "Farmers demand that their bottom unloader chain functions reliably with every use, and we feel the Harvestore Talon answers their call."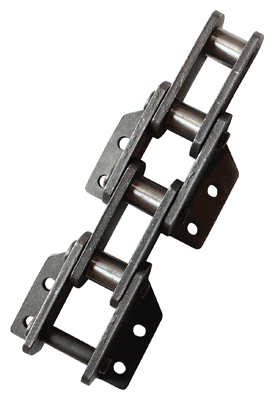 Each Harvestore Talon chain is composed of high quality alloy stainless steel and includes a side bar with more material surrounding pitch holes at each end. The new side bar also contains chromium for improved strength and wear resistance. Harvestore Talon chains incorporate a new bushing style to maintain proper side bar position, which eliminates movement of the side bars and any interference with sprocket teeth, says Jones.
"The Harvestore Talon has a very tight side bar-to-bushing press fit to keep the side bar in place. This maintains proper chain link assembly and side bar orientation while assuring that the side bar is not over-stressed during its operation, which is crucial in extending the life of the chain," Jones says. "There is not another bottom unloader chain available that has the strength and durability features of the Harvestore Talon."
Harvestore Talon unloader chains are backed by a "Best in Industry" warranty. They are manufactured in DeKalb, IL and are available through the Authorized Harvestore Dealer Network and are backed by a "Best in Industry" warranty. Harvestore Talon chains are compatible with Harvestore Goliath®, Alliance® and XL™ unloaders. For more information about Harvestore Talon unloader chains, contact Rick Jones at 815-756-1551 ext. 252. To learn more about Harvestore, visit www.Harvestore.com.
12.19.2011