Patz Corporation recently introduced their largest stationary mixer to date: 1,100 cu. ft. (31 m3) 2400 Series II Stationary Twin Screw Vertical Mixer. Steel side extensions boost its capacity to 1,270 cu. ft. (36 m3). This new mixer is ideal for mixing TMR rations or producing quality compost with materials such as wood chips, biomass, and biosolids. It handles a maximum load weight of 30,000 lbs. (13,608 kg).
Two patent pending Vortex™ Screws and patented baffles promote fast mixing without compromising batch quality. The unique mixing design produces a complete, thorough mix, regardless of batch size.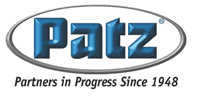 For long life and dependable performance, the split drive system provides overload protection for each (2) planetary gearbox. Patz offers a choice of two split drive packages: 1,800 RPM belt and pulley gearbox or PTO with gearbox. A PTO stub shaft comes standard, providing an alternate power source in the event of power failure.
A variety of options provide the opportunity for customization. A cooling system for split drive and planetary gearboxes is available. Patent pending tub mounted magnet(s) easily removes tramp metal. Electric motor VFD package with operator station offers low, medium, high, and high boost mixing speeds with the ability to reverse. Additional options include: choice of door locations, electronic scale indicators, steel/stainless steel liners, and more.
Patz 2400 Series II Stationary Twin Screw Vertical Mixers feature a simple design, engineered with high-quality components to ensure long life and reliable performance. Designed with overlapped side wall seams, the mixer tub is designed for strength and durability. 810 cu. ft. (23 m3) and 950 cu. ft.
(27 m3) sizes are also available.
For more information, visit www.patzcorp.com.
1.30.2012