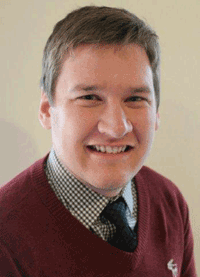 Filament Marketing, LLC announces the hiring of Jeff Hoffelt as an associate marketing executive. Hoffelt will be working with the company's client management team assisting with the coordination and implementation of marketing communications plans and initiatives.
Hoffelt most recently spent two years at Agri-View as a livestock editor. In this role, he coordinated coverage of production agriculture, environmental regulations, legislation and policy as well as management strategies for livestock, dairy and crops.
Prior to his editor role, Hoffelt completed internships with Agri-View and the Ke Kalahea Student News in Hilo, Hawaii. In 2010, Hoffelt graduated from the University of Wisconsin-River Falls with a Bachelor of Science degree in marketing communications with an agriculture emphasis. In addition to his professional experiences, Hoffelt brings a varied background to the table, having hands-on production experience with dairy, beef, rabbits and
waterfowl.
"We are excited about the diverse background that Jeff brings to the Filament team," says Ed Peck, president of Filament Marketing. "His enthusiasm and knowledge of the livestock industry, combined with his leadership skills and passion for writing will be tremendous assets to our clients and their marketing programs."
Founded in 2004, Filament Marketing is a strategic marketing and management firm focused on the advancement and success of its clients. Strongly and specifically involved in dairy, livestock and general agricultural industry markets, Filament Marketing works closely with clients seeking innovative marketing ideas and insight. Filament Marketing's expertise is built on continued, hands-on involvement in the agriculture markets it serves and its dedication to strong client relationships.
1.30.2012