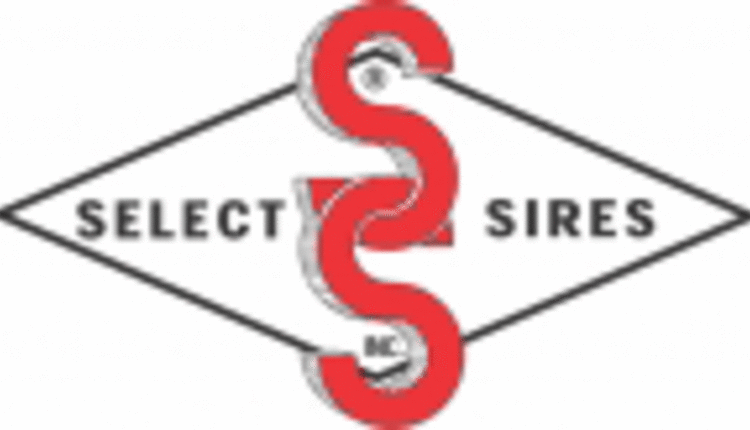 Select Sires Inc., along with its member cooperatives, are proud to report that 2011 was once again a record-breaking year. Dairy and beef producers continue to turn to the trusted leader in the A.I. industry, and as a result, Select Sires' sales grew to surpass 12.8 million units of semen to its member cooperatives and international distributors in 2011. This achievement marks the eighth year of sales growth in the past nine years and is a result of the continuous improvements that have been led by the farmer-owned and -controlled cooperative's board of directors.
For 46 years, Select Sires has become the trusted source for breed-leading genetics, superior programs and the best trained professional sales and service staff, leading to continued success for the customer-owners.
Breed-Leading Genetics
The dairy and beef sire programs are on the cutting edge with a combination of new genomic technology and the industry's gold standard in proving programs, the Program for Genetic Advancement™ (PGA™).
One of the keys to Select Sires continued success is their breed-leading Holstein lineup. Offering the industry's most diverse selection of sires, breeders across the U.S. and abroad have ample choices to meet their goals. Some of these top sires include 7HO9165 Regancrest S BRAXTON-ET (EX-95), the reigning No. 1 sire for Type at +3.87 PTAT; 7HO9441 Stouder JAYVEN-ET (EX-94), the top Holstein sire for Milk at +2,899; the No. 1 sire for Lifetime Profit Index (LPI) in Canada (+2638 GLPI), 7HO9264 Lirr Drew DEMPSEY (VG-86); 7HO8081 Ensenada Taboo PLANET-ET (EX-90-GM), who ranks as the highest sire on the Top 100 Total Performance IndexSM (TPISM) list with 97% Reliability or greater (+2184 GTPI); and the No. 1 sire for Udder Composite (+3.84 UDC), 7HO9545 Siemers Toys HERO 9701-ET (EX-92). In addition to the outstanding Holstein lineup, Select Sires continues to be the trusted source for all dairy breeds and is home to many leaders in the high-components breeds arena.
In the beef sire program, 2011 represented an outstanding year with many new and exciting sires added to the Select Sires beef lineup. These highly-pursued bulls include 7AN341 G A R INGENUITY, the No. 1 $Beef bull in the Angus breed; 7AN350 Connealy CONFIDENCE 0100, who offers an astounding blend of phenotype and performance; a high-ranking Simmental sire, 7SM69 Gibbs 0601X RAISIN' CAIN with an All Purpose Index (API) of 117 and a Terminal Index (TI) of 76; and 7HP107 TH 49U 719T SHEYENNE 3X, an exciting Hereford prospect with incredible breed-changing potential.
Superior Programs
Select Sires remains a leader in innovation through the many products and services that they offer. This is represented through the gender SELECTed™ product; semen fertility research via the Program for Fertility Advancement™ (PFA™); modern synchronization programs; and activity monitoring heat detection systems with Select Detect™. In addition, their innovation is recognized by new concepts to advance profitability, such as FeedPRO®; supportive research on crossbreeding; inbreeding studies that are praised by production-minded dairy producers; and a newly formed partnership with The Beef Connection to enhance profitability for beef producers. Select Sires is also proud to serve their customer-owners through customer-focused programs designed to enhance reproduction and genetic progress – Select Reproductive Solutions™ (SRS™) and Select Mating Service™ (SMS™).
Best Trained Professional Sales and Service Staff
A passion for the industry and their customers' success drives Select Sires employees to learn and improve upon their skills. Select Sires provides training programs and classes to develop the skills of their employees to serve dairy and beef producers around the world. No A.I. company has invested more in improving on-farm reproduction than Select Sires. Select Sires technicians receive continuous hands-on instruction through SelectCheck™ training school. In addition, SMS genetic consultants and SRS specialists attend annual educational conferences. Biennially, more than 350 of Select Sires' finest gather for a week-long training program in Columbus, Ohio. Select Sires' comprehensive online learning site, the Center for Excellence, is available year-round for employees to advance their skills and knowledge. The cooperative offers staff members these diverse training options because they believe that their patrons deserve a trusted and qualified partner.
It is this passion for customer success that drives Select Sires to offer their customer-owners the best genetics, enhanced programs and outstanding service to deliver pregnancies and genetic progress.
Based in Plain City, Ohio, Select Sires Inc. is North America's largest A.I. organization and is comprised of nine farmer-owned and -controlled cooperatives. As the industry leader, it provides highly fertile semen as well as excellence in service and programs to achieve its basic objective of supplying dairy and beef producers with North America's best genetics at a reasonable price.
2.10.2012