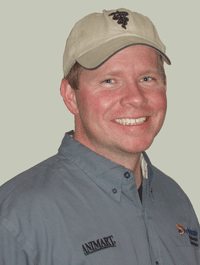 ANIMART, Inc. announces the recent addition of Dr. Michael Costin to the technical services veterinarian team of the dairy and livestock division which provides animal health products, supplies and solutions to producers.
Dr. Costin will be covering the Northeast territory of Wisconsin in his new role. He will utilize his understanding of Dairy Comp 305, dairy reproduction, mastitis detection and treatment, drug compliance and calf health to analyze and troubleshoot herd health in his territory.
"Dr. Mike is a valuable resource for ANIMART," says Katie Flagel, technical services manager of ANIMART. "He brings considerable knowledge and experience from working with local dairy producers building effective reproduction and vaccination programs to implement on the farm for improved herd health."
Most recently, Dr. Costin was a partner at Waupun Vet Clinic where he practiced veterinary medicine exclusively in dairy herds. Prior to joining the Waupun Vet Clinic, Dr. Costin practiced as a large animal veterinarian at Athens Veterinary Service. He received his DVM from Kansas State University in 2003 and is involved in the American Association of Bovine Practitioners, American Veterinary Medical Association and Wisconsin Veterinary Medical Association.
Established in 1982 and headquartered in Beaver Dam, Wis., ANIMART, Inc. is a privately held provider of animal health
and veterinary products as well as show equipment for dairy and livestock producers . ANIMART is committed to offering a full line of products and solutions to help dairy and livestock businesses succeed. More information about the company and its products can be accessed at www.animart.com.

3.05.2012